Main content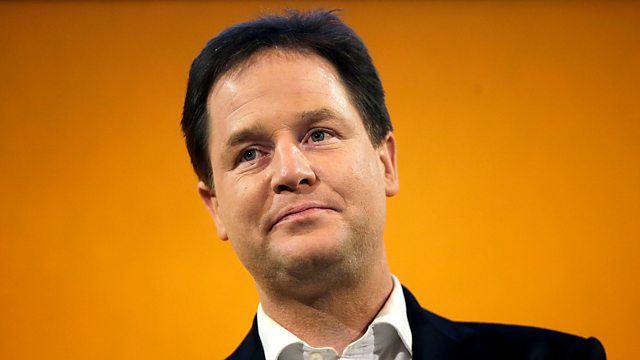 Steve Richards looks back on Nick Clegg's rollercoaster ride in power and explores the wider fortunes of the Liberal Democrats, the UK's beleaguered but resilient third party.
What an extraordinary few years it's been for the LibDem leader, Nick Clegg, and his party. Once frequently dismissed as peripheral, even irrelevant, in May 2010 Britain's third party was suddenly propelled into the centre of power. At its helm: a man with only five years' experience as an MP who became Deputy Prime Minister in the first peacetime coalition for 80 years.
In this series Steve Richards talks to Nick Clegg himself and other senior LibDem figures about their rollercoaster ride in government, and assesses the party's prospects for the future.
Through in-depth interviews with insiders, we trace the key moments in this dramatic story:
The meteoric rise of Clegg himself, who went from MEP to DPM in little more than a decade. The abrupt transition from "Cleggmania" to becoming one of the most pilloried figures in public life.
The highs and lows of the UK's first experiment with coalition in modern political history. The heady first days, tuition fees debacle, AV referendum campaign, health reforms, election results, Lords reform row, and the increasingly bitter, fractious relationship between the coalition partners.
We explore Nick Clegg's leadership through turbulent times, assessing his political beliefs. How was a left-leaning party able to partner up with Conservatives with such apparent ease? What was the cost? And, with a hung parliament still very much in prospect in 2015, we show how Nick Clegg's politics and character could matter hugely to the future of British politics.
Producer: Leala Padmanabhan.
Last on
Broadcast