Main content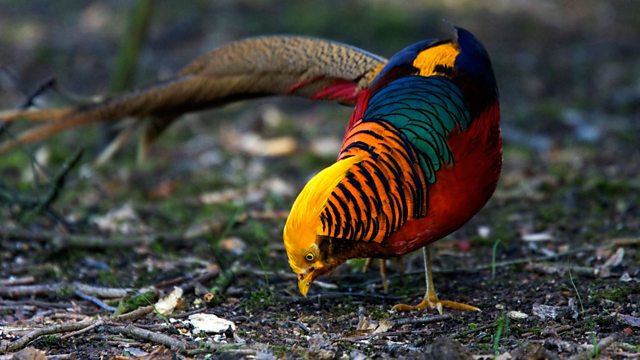 Golden Pheasant
John Aitchison presents the golden pheasant.
Tweet of the Day is a series of fascinating stories about our British birds inspired by their calls and songs.
John Aitchison presents the golden pheasant. Golden pheasants are native to the mountains of China where they live in thick bamboo forest. The males are brightly-coloured; gold and scarlet, with a long tail and a cape of black and orange which they use to woo the much duller brown females. From the late 1800's Golden Pheasants were introduced to many bird collections and shooting estates around the UK. Today the strongest colonies are in East Anglia.
Golden Pheasant (Chrysolophus pictus)
Webpage courtesy of Chris Knight (rspb-images.com)
The Living World: Golden Pheasant
If you would like to hear more programmes about golden pheasant, you might be intertesed in listening to this programme, which was originally broadcast on Sunday 28th April 2013.
Brett Westwood joins Paul Stancliffe of the British Trust for Ornithology in search of wild golden pheasants in the conifer woods of Norfolk. Here, in spite of their bright colours, they are very elusive and behave much as they do in their native China, skulking in dense undergrowth and glimpsed only as they dash across rides.
Podcast
Discover birds through their songs and calls. 265 programmes of 90 seconds, over a year