Main content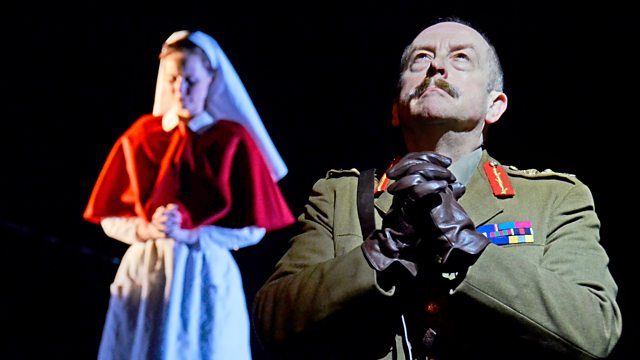 Oh What a Lovely War
The Theatre Royal Stratford East restages its controversial WW1 musical satire, directed by Tony Award-winner Terry Johnson and including Caroline Quentin in the cast.
As Britain and the world sets out to mark the centenary of the start of WW1 in 1914, Radio 2 begins its commemorations with by broadcasting Tony Award winning director Terry Johnson's new production of "Oh What A Lovely War" performed at The Theatre Royal Stratford East, the theatre where it was created by Joan Littlewood and the Theatre Workshop half a century ago. The ensemble includes Caroline Quentin and the music is directed by Mike Dixon.
In 1963, despite it being 45 years since the end of the First World War, the debut performance of Joan Littlewood's musical that delivered a satirical slant on the horrific events of the Great War, sent shock waves through British society. This society was yet to embrace the freedom of the sixties and was still recovering from the brutal reality of another World War and so wanted to bury its head in the sand rather than face the human cost that war brings.
"Oh What A Lovely War" is perhaps the best known stage play attacking the Great War. This musical comedy has always been controversial and has enormous impact. Even in 1963, almost half a century after the war, the musical was refused a license for a West End performance, until Princess Margaret, who saw it in Stratford remarked to the Lord Chamberlain: "What you've said here tonight should have been said long ago, don't you agree?" It went on to be a huge stage success, before heading to Broadway and film.
The musical takes the form of an end of the pier Pierrot show comprising a series of popular songs of the period , "It's a Long Way to Tipperary," "Pack up Your Troubles", "Oh What A Lovely War" and "Keep the Home Fires Burning", intercut with satirical sketches and arranged in such a way as to map out the progress of the war.
Last on

Joan Bakewell on how a 1960s musical helped shape our modern view of World War One.
Credit
| Role | Contributor |
| --- | --- |
| Performer | BBC Concert Orchestra |
Broadcasts