Main content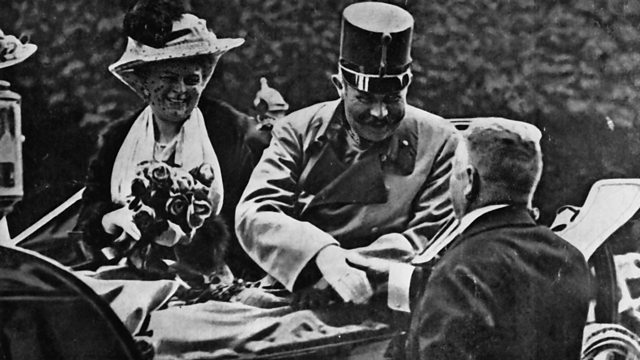 4 Extra Debut. Unpicking the complex sequence of events during the July Crisis sparking the First World War. Christopher Clark begins with the assassinations in Sarajevo in 1914.
Professor Christopher Clark unpicks the complex sequence of events during the July Crisis, leading to outbreak of the First World War, from the perspective of the key centres of decision-making – in Berlin, Paris, St Petersburg and London.
He analyses how these countries reacted to the assassination of Archduke Franz Ferdinand of Austria-Hungary in Sarajevo on 28th June 1914 and casts fresh light on the causes of the First World War, offering a new interpretation of the catastrophe.
This short-run crisis was the most complex event in modern history - yet Professor Clark argues that, far from being a slow sequence of events in which bungling leaders walked blindly to war, it was a fast-paced crisis that contains lessons and parallels for our own world. There was no 'slithering over the brink' as Lloyd George later claimed, but rather a sequence of clear-eyed steps. The July Crisis of 1914 was a 'Month of Madness', not because the men who made it were themselves mad, but because its outcome was completely catastrophic and completely unnecessary.
In the first programme, Professor Clark travels to Sarajevo to tell the story of extraordinary chances that led to the assassinations of Archduke Franz Ferdinand and his wife Sophie Chotek on 28th June 1914, conveying a sharp sense of the dramatic sequence of events that day and how they were shaped by the geography of the city.
The repercussions of the assassinations - comparable to the effect of 9/11 - exemplify the transformative power of a terrorist event. But the murders were not a pretext for a war decided in advance - nor did they make conflict inevitable.
Producer: Melissa FitzGerald
A Blakeway production for BBC Radio 4
More episodes
Previous
You are at the first episode