Main content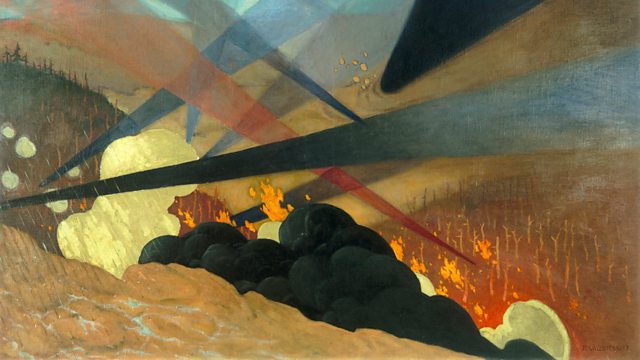 Arf a Mo, Kaiser: Popular Culture on All Fronts
Francine Stock explores the music and images of popular culture in Britain, France, Russia and Germany, as fiery patriotism flares and fades in the first weeks and months of war.
While high culture wrestled with the clash of German Kultur and the civilisation of the west, popular culture had no such concern for nuance in the early months of war. In this programme Francine Stock explores the way the music industry, and by 1914 it was a thriving performing and publishing industry in Britain, responded to war. Recruitment songs, patriotic sheet music and poems by the thousand were everywhere. But it was short lived. Once the zeal for righteous war was replaced with the mundane business of fighting, the music makers returned to the escapism their audiences sought.
In France the authorities took complete control of popular culture from the outset and with immediate conscription there was no need for recruitment song. Instead they turned to an established supply of heroic French song driven by the smart of defeat in 1871 at the hands of the Prussians.
In Germany the 'spirit of September' echoed through the Biergarten in the form of the Prussian, now German, anthem, 'Heil! dir im Siegerkranz' (to the tune of our own national anthem) as well as 'Wacht am Rhein'. But as the initial war fever settled Germans turned to Operetta for their entertainment with the British Foreign Secretary Grey and the French Prime minister Poincare the butt of jokes in pieces like 'Immer Feste Druff' by Walter Kollo.
And finally, Imperial Russia saw a flurry of vivid Posters (Lubok) and increasingly postcards extolling the virtues of the Cossack Warrior, while popular singers like Nadezhda Plevitskaia sang emotive songs of pride in the Tsar and Russia in the folk style that spoke to the heart of both her city and rural audiences. But it was an image of an injured soldier by Leonid Pasternak, father of Boris, which captured the popular imagination from the outset. Hated by the Tsar it first appeared in 1914, long before it became a powerful image for the Bolshevik uprisings later in the war.
Featured
From 1914 by Lyn MacDonald,

Lance Corporal Edward Organ recalls his first experience of combat near Messines in October 1914.

The Times, Saturday Oct 3rd;

Readers are invited to celebrate the qualities and impact of a good patriotic song

Forty men from Simpson's, by Herbert Kaufman

It is understood that at least 40 members of staff volunteered in the first month of war