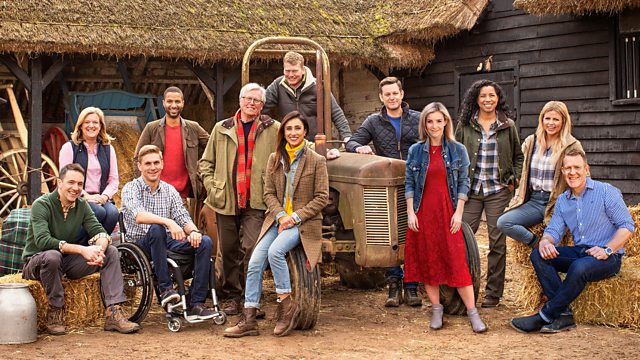 Gwaun Valley
Ellie Harrison and John Craven are in North Pembrokeshire, visiting the Gwaun Valley and Preseli Hills. Ellie delves into the distant past, discovering a landscape full of Iron Age treasures. John helps to give an ancient forest a new lease of life before sampling the local homebrew. Tom Heap is in the north of England, investigating claims that our uplands are in crisis and that farming is partly to blame. And Adam Henson is having a tough start to the new year on his farm, with some devastating news about one of his favourite animals.
Last on
Ancient landscape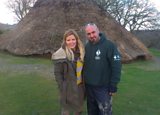 The Preselis in Pembrokeshire are steeped in mystery and remnants of structures made by ancient and industrious people.  Ellie Harrison meets those whose job it is to preserve what's left of the old traditions - a task made harder by people tampering with the monuments.  Ellie helps tidy up a burial mound and meets a group of young people who are working to keep a reconstructed Iron Age village alive using wattle and daub.
Woodland furniture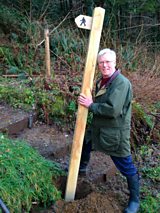 The indigenous broadleaf trees of the Gwaun Valley, such as oak, chestnut and ash, are being carefully managed to provide a rich variety of habitats and biodiversity.  And, as John discovers, harvested timber doesn't go to waste - 200 tonnes of wood from forests around south Wales ends up at the nearby Cilrhedyn sawmill and is used to provide the whole of Pembrokeshire National Park with furniture such as picnic benches and gates.  John lends a hand to make a footpath sign that goes back into the local forest.
Eric's bad news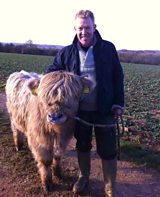 This week Adam Henson has some unwanted surprises on the farm. The Highland cows aren't in calf which means Eric isn't doing his job as a stock bull.  Tests have revealed that he's suffered from Schmallenberg at some point in his life and Infectious Bovine Rhinotracheitis (IBR).  This can cause temporary infertility, but unfortunately the damage is looking more permanent which is leaving Adam with some dilemmas.
Ellie and the Longhorns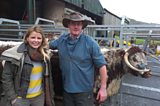 The lands around the Gwaun Valley have been farmed for hundreds of years and Robert Vaughn's family have been here for generations.  Ellie heads up the valley to meet him and some of his impressive looking cows. The Vaughns display their cattle in shows around the country and Ellie gives the new star heifer the top treatment as she washes and blow-dries its hair.
Hill farming
Tom Heap explores controversial views on upland farming. An increasing number of people are claiming that sheep farming in the hills is creating a monoculture which lacks diversity and is impacting on wildlife. One of the loudest voices is writer and journalist, George Monbiot, who says the 're-wilding' of the uplands will not only help support a variety of birds and animals, but would also hold more water, reducing the risk of floods on the lowlands. But, as Tom hears, those views have been rejected as the fantasy of intellectuals. Many believe that farming the uplands helps preserve a landscape loved by tourists, provides food for the nation and is an essential part of the rural economy.  
Happy New Year!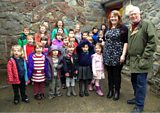 John Craven discovers why the people of Cwm Gwaun in Pembrokeshire have celebrated New Year out of step with the rest of Britain since 1752.  The 13th of January marks the old New Year, or Hen Galan, and to celebrate children from the valley serenade local residents with traditional Welsh songs to receive their calennig - gifts of sweets, fruit and money.  For the grown-ups the essential spirit of the celebration has also remained unchanged for many years - home-brewed beer.  John helps make a family recipe that has welcomed in the old New Year for generations.
Credits
| Role | Contributor |
| --- | --- |
| Presenter | Ellie Harrison |
| Presenter | John Craven |
| Presenter | Tom Heap |
| Presenter | Adam Henson |
| Series Producer | Teresa Bogan |