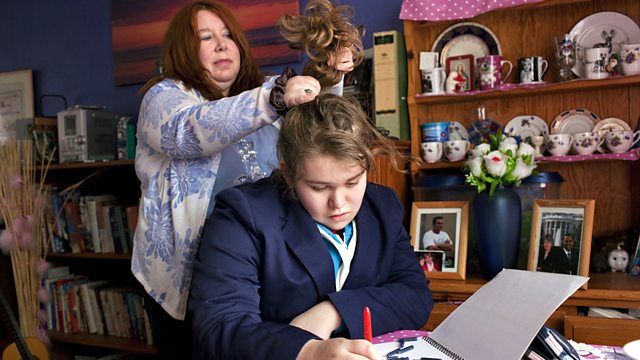 These Four Walls
Five stories of aspiration against a background of poverty and austerity. With the aim of finding the real people behind familiar media stereotypes, documentary-maker Peter Gordon travels through Yorkshire and talks to some of those struggling through hard times.
Fran and her daughter Niamh live in one of the most deprived parts of Leeds in a house whose fabric is falling apart. Niamh, without telling her mother, applied for entry to an exclusive fee-paying school, one she has always dreamed of attending. She won a bursary. This is her way out of a life with no future and Fran, who suffers from epilepsy, recognises this and fully supports her, but at great personal cost. Their struggle is felt every day, but the way they talk about themselves and their situation is heartfelt, perceptive and amusing.
A mile or so up the road on another estate lives Charlotte, a young single parent with two small children, who talks about her early ambitions and present frustration. She feels isolated and trapped, but looks ahead and plans for the future. Charlotte is determined to succeed as a working mother.
In Sheffield there is a lunch club where the elderly can go for an hour or two for a meal and some company - small reward for a life of hard physical labour.
In the north east an angry and unemployed 22-year-old yearns for a job, security and a family life, while in well-heeled York a young couple with two small children live in a cramped and overcrowded flat, all sleeping in one damp bedroom with fungus on the ceiling.
These are the real voices of the disadvantaged, the excluded or the marginalised who, between the four walls of their homes, dream, hope and plan for a better future.