John Wardley, Mandy Rice-Davies, Barbara Taylor Bradford, Marc Lucero
Libby Purves meets rollercoaster designer John Wardley; novelist Barbara Taylor Bradford; former showgirl and actor Mandy Rice Davies and comedian Mark Lucero.
John Wardley is a rollercoaster designer who is behind some of the most famous rollercoasters in Britain including Oblivion and Nemesis. He also devised special effects for five of the James Bond films including Live and Let Die and The Man with the Golden Gun. As a young boy he was fascinated by illusions, fairgrounds and the mechanics behind them. His autobiography Creating My Own Nemesis is self-published.
Barbara Taylor Bradford is a novelist who has sold over eighty million books worldwide since her debut novel, A Woman of Substance, was published in 1979. She started writing for her local paper, the Yorkshire Evening Post, when she was 15 and by 18 she was editing the paper's Women's page. Her new novel, Cavendon Hall, is about two families - the aristocratic Inghams and the Swanns who serve them. Cavendon Hall is published by HarperCollins.
Mandy Rice Davis is a former showgirl, known for her involvement in the Profumo affair in the 1960s. After the scandal she moved to Israel where she took up acting. Mandy was an adviser on Andrew Lloyd Webber's musical, Stephen Ward, which charts the rise and fall of the man at the centre of the Profumo affair - osteopath Stephen Ward. Stephen Ward - The Musical is at the Aldwych Theatre, London.
Marc Lucero is a comic who won Silver Stand-Up Of The Year (for comedians over 55) at Dave's Leicester Comedy Festival in 2013. His one man show, George Carlin Saved My Life, is inspired by his first trip to the US in 1979. During the trip he met members of his family for the first time and saw the late comic George Carlin perform in Las Vegas. Watching Carlin convinced him to become a stand-up comedian. George Carlin Saved My Life is at the Criterion Theatre as part of Dave's Leicester Comedy Festival.
Producer: Paula McGinley.
Last on
In the studio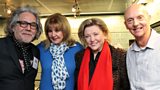 L-R:Marc Lucero, Mandy Rice-Davies, Barbara Taylor Bradford, John Wardley

Credits
| Role | Contributor |
| --- | --- |
| Presenter | Libby Purves |
| Interviewed Guest | John Wardley |
| Interviewed Guest | Mandy Rice-Davies |
| Interviewed Guest | Barbara Taylor Bradford |
| Interviewed Guest | Mark Lucero |
| Producer | Paula McGinley |