Main content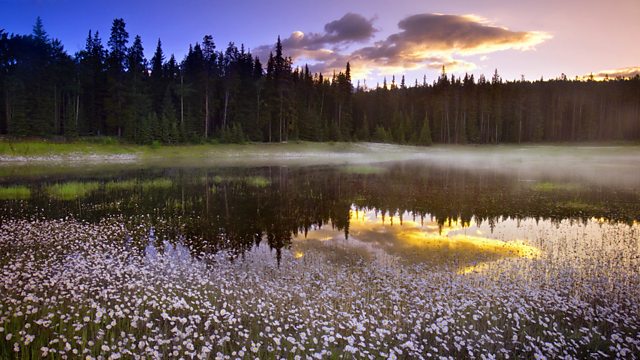 Thundering glacial waterfalls, spouting geysers and hot steaming vents are all part of the dramatic landscape that wildlife sound recordist Chris Watson encounters in Iceland.
In the first of new series of NATURE, we join wildlife sound recordist Chris Watson in Iceland. When it comes to dynamic landscapes, there's perhaps nowhere in the world more exciting than Iceland; with its vast groaning glaciers, spouting geysers, thundering glacial waterfalls, hissing thermal vents and erupting volcanoes - and it's the sounds of this landscape which Chris is keen to capture. Iceland is situated on a geological rift, the Mid-Atlantic ridge between the Eurasian plate and the North American plate. The plates are moving apart at a rate of 2cm a year. "Iceland is at least twice the size it was 10million years ago and is still growing" geophysicist Magnús Tumi Guðmundsson tells Chris. Then, just over 50 years ago when another island, Surtsey, erupted off the south west coast of Iceland. The eruption lasted for 3 years, and the creation of a new island offered scientists a unique opportunity to study the process of island colonisation. "The landing was amazing I can't describe the feeling, it's impossible" recalls Erling Olafsson, one of the first scientists to land on Surtsey "only three colours grey, brown and blue". In 2003 Chris was given permission to visit Surtsey "I remember the sounds of a newly established gull colony and seawash on a beach of jet black lava". The colony of Lesser Black-backed gulls have played a key role in facilitating the colonisation of the island by other species. "I can understand now, how a seemingly hostile volcanic island can give rise to new life" says Chris, and back on Iceland he is astonished by the density of birds on a hillside; snipe, whimbrel, redwing, golden plover and redshank "At first, it's not apparent when you just look round, but what you really need to do is just listen".
Producer Sarah Blunt.