Main content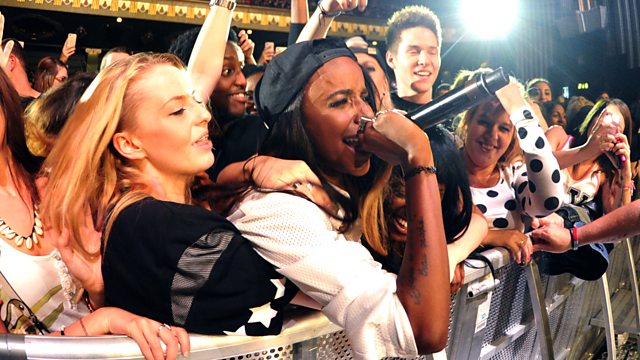 Angel Haze
Rapper Angel Haze. Why are political parties failing to attract and retain women? Plus how a portrait of the Wyndham Sisters inspired a historian to tell their story.
Rapper Angel Haze talks about about her troubled upbringing and how she's using her music to help others.
New research from Women for Refugee Women suggests that almost twenty per cent of women they interviewed who were seeking asylum said they had fled persecution on grounds of sexual orientation. They say that lesbian women face a number of obstacles when claiming asylum in the UK - largely around "proving" their sexuality within a systematic "culture of disbelief". We hear one woman's experience.
Anne Mc Intosh, de-selected by her constituency party last week, has become the fifth of 49 Tory women MPs voted into parliament in 2010 who won't be standing for the party next year. The week before last, Lord Rennard focused attention on the Liberal Democrats "problem with women". So what's happening?
Plus historian Claudia Renton on why the portrait of the Wyndham sisters by John Singer Sargent inspired her to find out more about the three aristocratic women with a privileged, bohemian upbringing. She tells Jane Garvey about her how she got under the skin of the sisters for her new book Those Wild Wyndhams.
Presented by Jane Garvey
Produced by Beverley Purcell.
Last on

Chapters
Women In The Conservative Party

Political journalist Gabby Hinsliff on women's representation in the Conservative Party

Duration: 05:47

US Rapper Angel Haze

Angel Haze on using her own difficult life experiences & her music to try to help others

Duration: 13:05

Lesbian Women In The Asylum System

Natasha Walter of Women for Refugee Women & lawyer Tim Barnden, who specialises in asylum

Duration: 13:19

Those Wild Wyndhams

Claudia Renton, author of a new biography on the Wyndham sisters, talks about their lives

Duration: 09:06

Women In The Conservative Party

Following the deselection of Anne McIntosh, we ask what's going on in the Conservative Party regarding women. Political journalist Gabby Hinsliff joins Jane to discuss.

Angel Haze

US rapper Angel Haze is an outspoken voice in hip-hop, with her raw personal tales of rape and sexual abuse. She says she rejects labels of race, gender, and sexuality, and often deals with difficult topics in her lyrics, rather than common rap themes of money, drugs, and sex, as she wants to help others by sharing her experiences. Behind all this, she has her own powerful life story to tell - of a tough upbringing, growing up in a 'religious cult', being abused as a child, being banned from listening to music, coming out as "pansexual", and standing out as a fearless female voice in the otherwise male-dominated, often homophobic, world of hip-hop. She was third in last year's BBC Sound Of 2013 Poll, and now her debut album is just out, after she leaked it online against her record label's wishes in a rush to let her fans hear her message. She joined Jane Garvey to tell her about her life and her music.

 

Dirty Gold by Angel Haze is out now on Island Republic

Lesbian Women In The Asylum System

Last week a major new report was published by the charity Women for Refugee Women on the experience of female asylum seekers detained in Britain. Almost 20 per cent of those interviewed said they had fled persecution on grounds of sexual orientation. The research suggests lesbian women face a number of obstacles when claiming asylum in the UK - largely around "proving" their sexuality within a systematic "culture of disbelief". We hear from Alice (not her real name), a 26 year old lesbian from Cameroon, who was detained in Yarl's Wood last year. To discuss the issues raised, Jane is joined by Natasha Walter, co-founder of Women for Refugee Women, and Tim Barnden, a lawyer specialising in asylum claims relating to sexual orientation and Chair of the UK Lesbian and Gay Immigration Group.

 

Lesbian Immigration Support Group  

 

 

Those Wild Wyndhams

In 1900, a portrait by John Singer Sargent was described by the Times as the "greatest picture which has appeared for many years on the walls of the Royal Academy." The portrait was of the Wyndham sisters - three aristocratic women with a privileged bohemian upbringing, who became intimate with some of the most powerful, and scandalous, men in the country. Claudia Renton - a rising star of the history scene - has written their biography, and speaks to Jane about how she got under the skin of the sisters.

  

Those Wild Wyndhams is published by William Collins

Credits

| Role | Contributor |
| --- | --- |
| Presenter | Jane Garvey |
| Interviewed Guest | Claudia Renton |
| Interviewed Guest | Fiona Elvin |
| Interviewed Guest | Natasha Walter |
| Interviewed Guest | Tim Barnden |
| Interviewed Guest | Angel Haze |
| Interviewed Guest | Gaby Hinsliff |
| Producer | Beverley Purcell |

Broadcast