Main content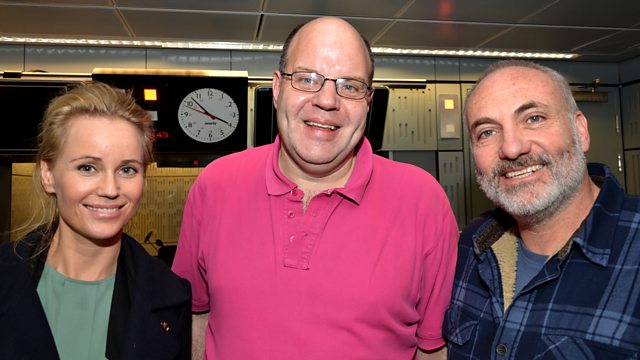 The Bridge stars, Jonathan Lethem, RS Thomas
The stars of Nordic noir TV series The Bridge, the strange case of RS Thomas and the crisp packet, novelist Jonathan Lethem on the history of the Communist party in the USA.
Jonathan Lethem talks about his latest novel Dissident Gardens. It's an epic family novel criss-crossing generations from the '50s to the present day, focussing on Rose, an American Communist. Based on his own upbringing and radical grandmother, Lethem describes how even as a youngster he guessed he'd never be able to stand for President, as there surely would have been a 'problem with my files'.
This weekend the final two episodes of The Bridge are screened on BBC4. The series, which has spawned many international remakes, follows a Swedish and a Danish detective working on a case together, and explores the cultural differences that inform their relationship. Sofia Helin and Kim Bodnia, aka detectives Saga Norén and Martin Rohde, discuss the surprise popularity of the show and the challenges of acting with someone who is speaking a different language.
This week a crisps manufacturing company admitted they had used a photograph of the late Welsh poet R.S. Thomas to advertise a competition on their packets, without knowing who he was. Thomas's biographer Byron Rogers reflects on the strange case of the poet and the crisp packet.
Many of this year's Oscar contenders claim to be 'based on a true story', among them 12 Years a Slave, Philomena, Saving Mr Banks, Captain Phillips and The Wolf of Wall St. Adam Smith has been digging around and begs to take issue with the veracity the film-makers claim.
Producer Stephen Hughes.
Lethem talks about his love of LCD Soundsystem and John Cale on the Radio 4 blog.
Chapters
Sofia Helin and Kim Bodnia - The Bridge

Duration: 09:41

Byron Rogers on R S Thomas

Duration: 03:32

Jonathan Lethem

Duration: 09:35

Adam Smith on 'true stories'

Duration: 04:43

The Bridge

Sofia Helin and Kim Bodnia, aka detectives Saga Norén and Martin Rohde from The Bridge discuss the surprise popularity of the show and the challenges of acting with someone who is speaking a different language.



Jonathan Lethem

Jonathan Lethem talks about his latest novel Dissident Gardens. It's an epic family novel criss-crossing generations from the Fifties to the present day, focussing on Rose, an American Communist.

The poet and the crisp packet

This week Tyrrells Crisps admitted they had used a photograph of the late Welsh poet R.S. Thomas to advertise a competition on their packets, without knowing who he was. Thomas' biographer Byron Rogers reflects on the strange case of the poet and the crisp packet.



True Stories

Many of this year's Oscar contenders claim to be 'based on a true story', among them 12 Years a Slave, Philomena, Saving Mr Banks, Captain Phillips and The Wolf of Wall St. Adam Smith has been digging around and begs to take issue with the veracity the film-makers claim.

Credits

| Role | Contributor |
| --- | --- |
| Presenter | Mark Lawson |
| Interviewed Guest | Jonathan Lethem |
| Interviewed Guest | Sofia Helin |
| Interviewed Guest | Kim Bodnia |
| Interviewed Guest | Byron Rogers |
| Interviewed Guest | Adam Smith |
| Producer | Stephen Hughes |