Main content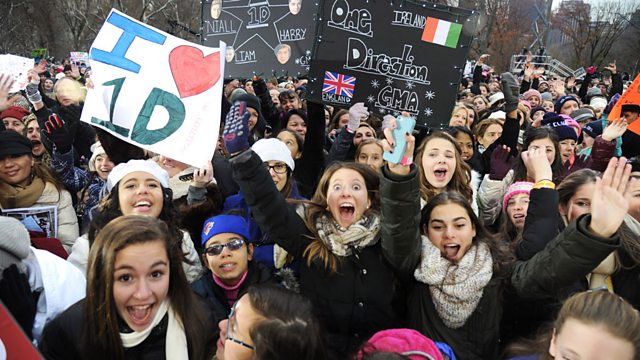 Mad About the Boy
Music journalists and pop fans Jude Rogers and Ruth Barnes look at the empowering flipside of pop fandom.
Hysterical girls have been pathologised for centuries but, in the last two or three generations, they've also helped define pop culture, further feminism and shape society.
Jude Rogers and Ruth Barnes - both music journalists and pop fans - look at the empowering flipside of pop fandom and how new, tribal rites of passage in teen pop culture have offered women an interesting new mode of expression.
Taking listeners on a journey from the Beatlemaniacs to the Directioners, they reveal the real power of female music fans. It's a power that helped form the fan clubs that fed the music industry, created a safe space for pubescent females to escape traditional gender roles and go wild, once terrified the authorities and silenced the world's biggest boy bands, and, today, drives social networks.
Featuring contributions from Beatlemaniac Lillian Adams; David Cassidy-fanatic - and writer - Allison Pearson; the woman behind one of One Direction's biggest hits, Fiona Bevan and ex-East 17 songwriter Tony Mortimer.
Produced by Eleanor McDowallA Falling Tree Production for BBC Radio 4.
Clips