The Simon Community
Alexei Sayle presents the Radio 4 Appeal for The Simon Community.
Reg Charity: 283938
To Give:
- Freephone 0800 404 8144
- Freepost BBC Radio 4 Appeal, mark the back of the envelope 'The Simon Community'.
Last on
The Simon Community
The Simon Community
in London has been working since 1963 to alleviate the isolation of people sleeping rough, provide a place where they can gain a sense of belonging and foster the skills they need to move towards independent living. We are a community of homeless people and volunteers living and working together in a spirit of love, acceptance, tolerance and understanding. We aim to reach out to support and campaign for people who are experiencing homelessness, and particularly those for whom no other provision exists.
Community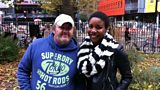 The Simon Community is made up of homeless residents and volunteers. We live together in community and run outreach services for street homeless people in London. 
Outreach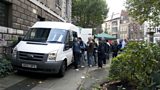 Our community members run outreach services to street homeless people in London every day of the year. These services include soup runs, street cafes, a winter night shelter and a day centre.    
Volunteers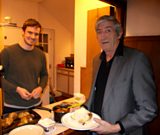 Volunteers are central to our work. Some volunteers live and work full-time in our residential projects. Some volunteers help with outreach for a few hours a week.