Main content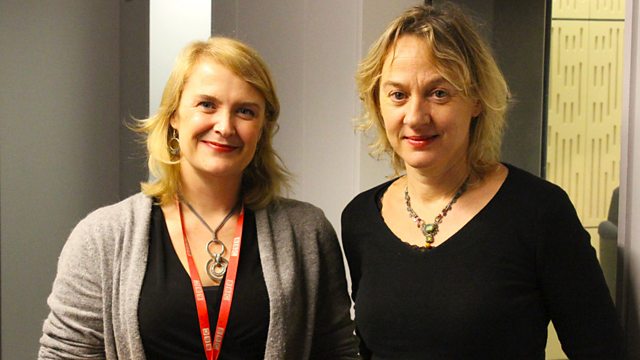 Friday - Sarah Walker with Niamh Cusack
With Sarah Walker. Including CD of the Week: Rachmaninov - Preludes, Op 23; Morceaux de fantaisie, Op 3; Artists of the Week: Takacs Quartet; Essential Choice: Britten: Arethusa.
9am
A selection of music, including the Essential CD of the Week: Rachmaninov - Preludes Op. 23 & Morceaux de fantaisie Op. 3, Howard Shelley, HYPERION CDA66081. We also have our daily brainteaser at 9.30. Today - Only Connect
10am
Artists of the Week: Takács Quartet.
10.30am
Sarah's guest this week is the actress Niamh Cusack. Niamh originally trained as a professional flautist, performing with the RTÉ National Symphony Orchestra and Concert Orchestra, before pursuing a career in acting. She has played several roles for the Royal Shakespeare Company, including Desdemona in a production of Othello with Ben Kingsley, and opposite Sean Bean in the 1986 production of Romeo and Juliet. She came to the wider public's attention as Dr. Kate Rowan in the popular television drama series Heartbeat. On stage, she appeared in Victoria Benedictsson's The Enchantment at the Royal National Theatre, Andersen's English by Sebastian Barry, and Cause Célèbre by Terence Rattigan at the Old Vic. More recently, at the Royal National Theatre, she played the role of Siobhan in the stage adaptation of Mark Haddon's book The Curious Incident of a Dog in the Night-Time, which won a record seven Olivier Awards in 2013.
11am
Sarah's Essential Choice:
Britten
Arethusa (Metamorphoses after Ovid)
Hansjörg Schellenberger (oboe)
CAMPANELLA MUSICA
Schubert
Quintet in C major, D.956
Takács Quartet
Ralph Kirshbaum (cello)
HYPERION.
Today's Brainteaser Answer - Only Connect
The connection was Scotland:
The music played:
Mendelssohn
Symphony No. 3 'Scottish' – 2nd movement Vivace
London Symphony Orchestra
Peter Maag (conductor)
DECCA 466 990 2   
Arnold
Scottish Dance, Op. 59 No. 1 (Pesante)
Philharmonia
Bryden Thomson (conductor)
CHANDOS CHAN 8867  
Ellis
Coronation Scot
BBC Concert Orchestra
Vernon Handley (conductor)
SONY CLASSICAL 88697707372
Time Travellers: the podcast