Main content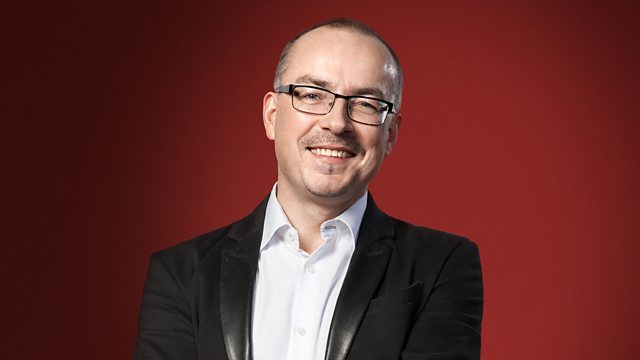 Building a Library: Debussy: Images - Books 1 and 2
With Andrew McGregor. Including Building a Library: Debussy: Images - Books 1 and 2; Recent releases of song recitals; Disc of the Week: Rameau: Le Grand Theatre de L'amour.
Last on
9.05am
Vivaldi – Concerti per archi II
VIVALDI: Concerti for strings RV 150, 134, 151, 119, 110, 160, 128, 164, 127, 166, 157
Concerto Italiano, Rinaldo Alessandrini (director)
NAIVE OP 30554 (CD)
G. F. HANDEL: 8 'Great' Suites for keyboard, HWV 426-433
Richard Egarr (harpsichord ) (Copy Ruckers, 1638)
Harmonia Mundi HMU 907581.82 (2 CD mid-price)
GAETANO VENEZIANO: La Sanctissima Trinita (Oratorio, Naples, 1693)
Leslie Visco (Verginie), Cristina Grifone (Amore Divino), Filippo Mineccia (Sapienza), Rosario Totaro (Onnipotenza), Giuseppe Naviglio (Peccato), I Turchini, Antonio Florio (conductor)
GLOSSA GCD 922607 (CD)
J D ZELENKA: Missa Paschalis ZWV 7, Litaniae Omnium Sanctorum ZWV 153
Gabriela Eibenova (soprano), Terry Wey (counter tenor), Cyril Auvity
(tenor), Marian Krejcik (baritone), Ensemble Inegal, Prague Baroque Soloists, Adam Viktora (conductor)
NIBIRU 01582231 (CD)
9.30am Building a Library
Top recommendation:
Debussy – Piano music volume 1
DEBUSSY: Images; Estampes; Masques; L'isle joyeuse
Noriko Ogawa (piano)
BIS CD 1105 (CD)
10.20am
DEBUSSY: Images*; Nocturnes+; Prelude a l'apres-midi d'un faun*
Boston Symphony Orchestra, Michael Tilson Thomas*/Claudio Abbado+ (conductor)
AUSTRALIAN ELOQUENCE ELQ 4806574 (CD mid-price)
10.25am New Releases
Hilary Finch joins Andrew to talk about some new song recitals. 
REIMANN: Nachtstuck
SCHUMANN: Three songs from Liederkreis, Op.39, Kerner Lieder, OP.35 etc
Wolfgang Holzmair (baritone), Imogen Cooper (piano)
WIGMORE HALL LIVE WHLive 0063 (CD mid-price)
Aufbruch (Awakening) Songs to Poems by Hesse and Goethe
SCHUMANN: Lieder der Mignon, Op.98a (Goethe)
SCHOECK: Lieder nach Gedichten von J.W. von Goethe, Op.19a; Lieder nach Gedichten von Hermann Hesse
YRJO KILPINEN: Liederfolge, OP.97, nach Gedichten von Hermann Hesse
R STRAUSS: Vier letzte Lieder
Sophia Brommer (soprano), Alexander Schmalcz (piano)
OEHMS CLASSICS OC 877 (CD)
MAHLER: Complete Wunderhorn songs
Dietrich Henschel (baritone), Boris Berezovsky (piano)
EVIL PENGUIN RECORDS CLASSIC EPRC 013
Anne Sofie von Otter  Douce France
Melodies by Hahn, Saint-Saens, Faure, Ravel, Debussy and Loeffler
Anne Sofie von Otter (mezzo-soprano), Bengt Forsberg (piano), Antoine Tamestit (viola)
French Chansons- including Barbara, Legrand, Trenet etc
Anne Sofie von Otter (mezzo-soprano), Per Ekdahl (percussion), Carl Bagge (piano), Bengt Forsberg (piano), Mats Bergstrom (guitar), Olle Linder (bass), Bengan Janson (accordion), Margareta Bengtson (voice and harp)
NAÏVE V 5343 (2 CD mid-price)
Entre elle et lui
Natalie Dessay sings songs by Michel Legrand
Natalie Dessay (voice), Michel Legrand (voice and piano), Pierre Boussaguet (double bass), Francois Laizeau (drums), Patricia Petibon (voice), Laurent Naouri (voice), Catherine Michel (harp)
ERATO 934145 2 (CD)
11.45am Disc of the Week
Rameau: Le Grand Theatre de L'amour
RAMEAU: Extracts from various works including Les Indes Galantes, Pygmalion, Castor et Pollux, etc
Sabine Devieilhe (soprano), Samuel Boden (tenor), Aimery Lefebre (baritone), Le Jeune Choeur de Paris, Les Ambassadeurs, Alexis Kossenko (director)
ERATO 50999 9341492 0 (CD)
Broadcast