Main content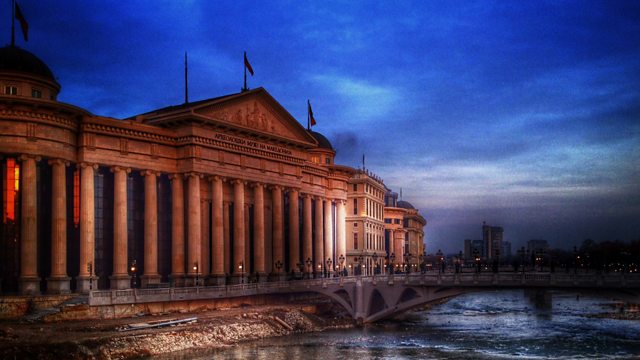 Eòrpa examines how prostitution is viewed in France and Germany. Plus, the growing tensions in Macedonia between Albanian-majority and Macedonian-majority townships.
A-nochd bi Eòrpa a' coimhead air obair shiùrsachd sa Fhraing agus sa Ghearmailt, agus cuideachd Masadonia agus am frionas eadar baile Albàinianach Struga agus baile Masadonianach Vevcani.
In this programme, Eòrpa examines how prostitution is viewed in France and Germany, and also visits Macedonia amid the growing tensions between the Albanian-majority townships of Struga and Macedonian-majority Vevcani.
Riaghailtean shiùrsachd san Fhraing is a' Ghearmailt
An Fhraing is a' Ghearmailt - dà dhùthaich taobh ri taobh san Roinn Eòrpa ach dà dhùthaich cuideachd le riaghailtean shiùrsachd a tha gluasad nas fhaide bho chèile. Tha dùil ri lagh ùr a dh'aithghearr a bhitheas ga dhèanamh mì-laghail feise a cheannach san Fhraing. Sa Ghearmailt ged-thà, tha taighean-siùrshachd pailt cho laghail ri bùithtean sam bith eile. An t-seachdain-sa, tha Darren Linc a' rannsachadh de buaidh a tha seo a' toirt air an dà dhùthaich.
Prostitution in France and Germany
France and Germany - two countries side by side in Europe, but two countries with diverging attitudes to prostitution. A new law is expected soon which will criminalise the purchase of sex in France. In Germany though, brothels are as legal as any other shop. This week, Darren Laing investigates what effect this is having on the two countries.
Soidhnichean-rathaid dà-chànanach ann an Masadònia
Ann am meadhan prìomh-bhaile Mhasadònia, Skopje, chìthear oidhirp mhòr an t-àite a sgeadachadh.  Tha togalaichean ùra a' dol an àirde, feadhainn eile gan leasachadh, agus tha ìomhaighean eachdraidheil gan cur air spirisean. Ged a tha obair gus ìomhaigh a' bhaile atharrachadh a' dol aig astar, 's ann mall a tha an t-adhartas le cuid a nithean eile. Cha d' fhuair an dùthaich ballrachd den Aonadh Eòrpach no de NATO fhathast, a dh'aindeoin a miann sin fhaighinn. Agus tha buaireadh mu shoidhnichean-rathaid dà-chànanach air sealltainn nach deach trioblaidean cinnidh a rèiteachadh buileach fhathast.
Bilingual road signs in Macedonia
Attempts to improve the centre of Macedonia's capital city, Skopje, are clearly evident.  New buildings are going up, others are being redeveloped, and historic statues have been erected. Although efforts to change the city's image are moving quickly, development in other areas has been slow. The country has yet to receive membership of the European Union and NATO, despite a desire to join. And a dispute about bilingual road signs has shown that ethnic tensions have yet to be resolved completely.