Main content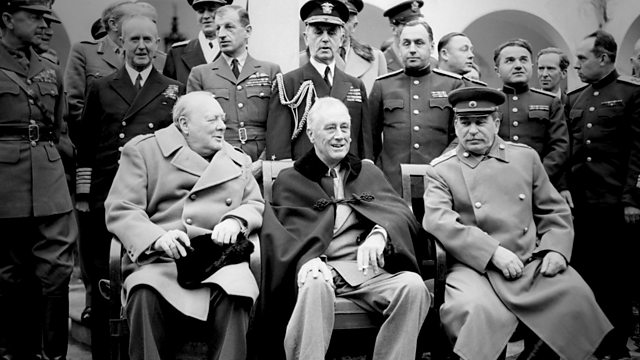 Ian Curteis - The Road to Yalta
4 Extra Debut. Ian Curteis re-imagines February 1945, through the eyes of British spy Donald Maclean. From January 2014.
February 1945. Hitler's exhausted armies are in full retreat before the triumphant advance of American and British troops from the West, and Russians from the East. It becomes imperative that Roosevelt, Churchill and Stalin meet face-to-face, to decide the future shape of Europe. They meet at the tiny Russian resort of Yalta, each ready to play their hand in a high-speed game of poker, and each relying on their diplomatic and intelligence communities to deal them the winning hand.
Meanwhile, in Ian Curteis' drama, loosely based on real events, diplomats at the British Embassy in Washington are discussing their high-flying First Minister - an impeccably-connected young man called Donald Maclean.
Directed by Jonquil Panting.
Credits
| Role | Contributor |
| --- | --- |
| Lord Halifax | Christopher Godwin |
| Sir John Balfour | Matthew Marsh |
| Donald Maclean | Geoffrey Streatfield |
| Melinda Maclean | Kelly Burke |
| John Brightman | David Seddon |
| Brice Reynolds | Steve Toussaint |
| Nikolai Gorski | Ewan Bailey |
| Director | Jonquil Panting |
| Writer | Ian Curteis |