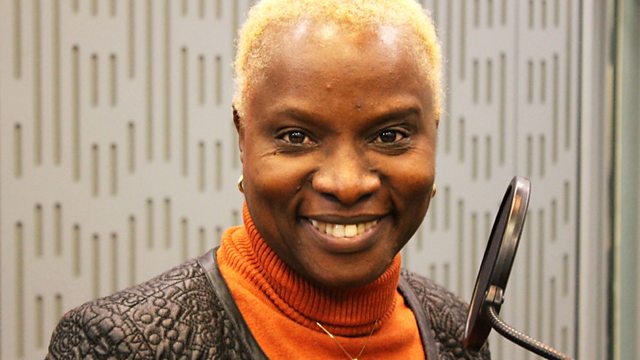 Angelique Kidjo; Child marriage
African singer-songwriter and activist Angelique Kidjo talks to Jenni about her upbringing in Benin, human rights campaigning and her commitment to helping African women and girls fulfil their potential.
Twitter abuse, is the current law adequate for dealing with internet trolls?
What makes someone share the details of their life-threatening illness online? Jane talks to two women who blog about their cancer treatment: Kate Granger and Sadie Nine.
And ahead of Radio 4's documentary Mad About the Boy, we discuss the phenomenon of the female fan with broadcaster Ruth Barnes and psychologist Jo Hemmings. What lies behind the image of 'screaming crazy obsessives'?
Presenter: Jane Garvey
Producer: Steven Williams
Output Editor: Alice Feinstein.
Last on
Angelique Kidjo
The Benin-born, Grammy award-winning singer and songwriter Angelique Kidjo was once called "Africa's Premier Diva," and is known for mixing different styles, like funk, salsa, jazz, and rumba, alongside traditional West African music. She has said that "we're all a part of Africa, because humanity was born there. From the time I started singing as a little girl, my mom and dad said to always follow my inspiration and never to compromise my music, but, above all, to give music to empower people all over the world. Music has no colour, no language, no boundaries." She's now dedicated to helping African women and girls fulfil their potential, and so alongside her singing career, she works as a UNICEF Ambassador, and has her own Batonga Foundation to help girls in Africa gain an education. And now she has a new autobiography and an album called Eve, which she has dedicated to the women of Africa, and includes the voices of African women's choirs. Angelique Kidjo joined Jenni Murray to explain how music, her upbringing as a girl in Benin, and her experiences as an exile in Paris, inspired her to use her voice to not only make music, but to campaign for human rights, to help girls and women all across Africa.
Angelique Kidjo's new album, Eve, is released on 28 January on 429 Records, and her autobiography, Spirit Rising, is published on 30 January by Harper Collins.
And Angelique can also be heard in session on World Routes on BBC Radio 3 on 14 February, speaking to Lopa Kothari and playing five tracks from her new album, Eve. 
Going Public About Cancer
A cancer diagnosis can be devastating and life changing, so why do some people choose to share the details of their illness with the general public? Both Kate Granger and Sadie Nine have chosen to do so because it's both empowering and helps to demystify the disease. Kate Granger has been diagnosed with a rare and aggressive form of sarcoma in 2011 which will cut her life short prematurely. She has written widely about her illness both on social media and in two books. Sadie Nine is a radio presenter with BBC Essex who was diagnosed with breast cancer and has discussed it widely with her listeners.
Twitter Abuse
The subject of abuse on Twitter is in the news again this week. Yesterday the footballer Stan Collymore accused Twitter of not doing enough to stop the abusive messages he received. The gymnast and Olympic medallist Beth Tweddle was the also the subject of vulgar messages as she did a live question and answer session on Twitter with Sky sports. Twitter has announced that it has introduced a button to report abusive messages but how likely is it that you would be able to take legal action against people who abuse others on twitter? Susan Aslan is a media lawyer from Aslan Charles Kousetta and Helen Lewis is from the New Statesman.
Mad About the Boy
How does being a female fan shape your life and define your relationships? Radio 4's documentary Mad About the Boy looks behind the 'hysteria' and finds ordinary women finding a sense of belonging that goes beyond the screaming portrayal of 'crazy obsessives'. We speak to music journalist and broadcaster Ruth Barnes, one of the presenters of the documentary and Jo Hemmings, a behavioural psychologist specialising in celebrity culture.
Credits
| Role | Contributor |
| --- | --- |
| Presenter | Jane Garvey |
| Interviewed Guest | Angelique Kidjo |
| Interviewed Guest | Anber Raz |
| Interviewed Guest | Kate Granger |
| Interviewed Guest | Sadie Nine |
| Interviewed Guest | Ruth Barnes |
| Interviewed Guest | Jo Hemmings |
| Producer | Steven Williams |
Featured in...
Interviews from Woman's Hour, including some of the best names in the business.