Main content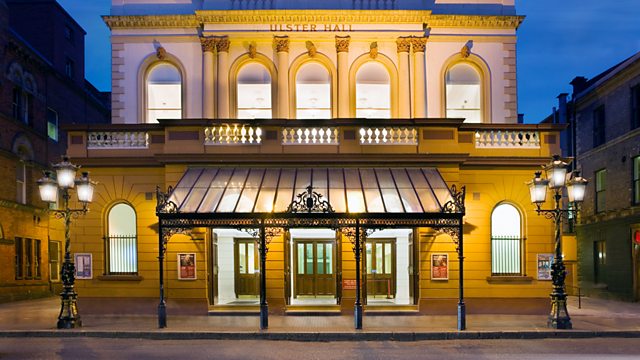 Live from the Ulster Hall: Beethoven: Leonore Overture No 2. Dvorak: Symphony No 7. Parry: Blest Pair of Sirens. Plus music by Lutoslawski, Tcherepnin, Glazunov and Rimsky-Korsakov.
Live from the Ulster Hall in Belfast, John Toal introduces an Ulster Orchestra concert conducted by the young Spanish conductor Antonio Mendez. We'll hear Beethoven's Overture to Leonore No 2 and the 1884 symphony that marked an important milestone in Dvorák's creative career, Symphony no 7 in D minor. It's the only symphony he composed to commission - for the Royal Philharmonic Society in London.
Following the live concert, Louise Fryer takes up the week's theme of the Ulster Orchestra playing British and Russian music. Today's British work features the Belfast Philharmonic singing Hubert Parry's 'Blest Pair of Sirens', an 1887 setting of 'At a solemn Musick' by John Milton. Most of the thematic material in Lutoslawski's Little Suite comes from the folk melodies of the village Machów in south-east Poland. The afternoon ends with a short all-Russian concert with the Ulster Orchestra's Principal Conductor, JoAnn Falletta, featuring saxophonist Gerard McChrystal playing Glazunov's lyrical Saxophone Concerto. The afternoon ends with an orchestral showpiece from Rimsky-Korsakov.
2pm Live from the Ulster Hall in Belfast
Beethoven: Overture, Leonore No 2
Dvorak Symphony No 7 in D minor
Ulster Orchestra,
Antonio Mendez (conductor).
3pm
Parry: Blest Pair of Sirens
Belfast Philharmonic Choir,
Ulster Orchestra,
Duncan Ward (conductor).
3.10pm
Lutoslawski: Little Suite
Ulster Orchestra,
Michal Dworzynski (conductor).
3.30pm
Tcherepnin: Overture, La Princesse lointaine
3.40pm
Glazunov: Saxophone Concerto
Gerard McChrystal (saxophone)
4pm
Rimsky-Korsakov: Capriccio Espagnol
Ulster Orchestra,
JoAnn Falletta (conductor).