Main content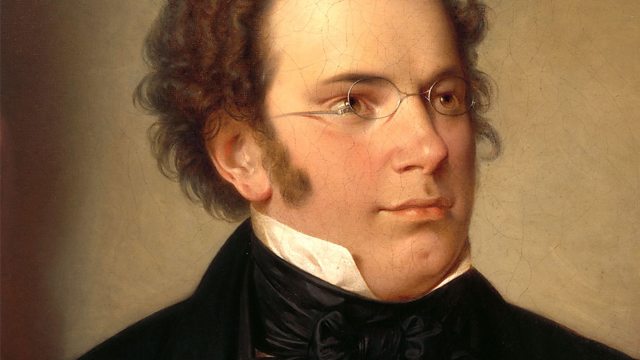 Donald Macleod focuses on the extraordinary fertility of Schubert's mind during his last two years.
Donald Macleod looks at the extraordinary fertility of Schubert's mind during his last two years.
One of Schubert's more remarkable creations is the song-cycle Winterreise or Winter Journey, setting the poems of Wilhelm Müller. It's a composition that astounded Schubert's many friends when they first heard the composer singing through this bleak work in its entirety: "We were quite dumfounded by the gloomy mood of these songs' recalled one friend, Josef von Spaun, 'From then on Schubert was a sick man'.
Tempting as it is to see the cycle as a harbinger of Schubert's doom, it seems that the composer was no less convivial than in earlier, happier times - as Donald recounts, he even went down to his local pub on completing the first half of the cycle! And musically, too, Franz Schubert was eager to pursue new genres, with commercial potential. His Impromptus, for example, contain moments of quicksilver brilliance.
Once again, his friends encouraged Schubert to seek out greater public recognition. Planning a concert at the hall of the Gesellschaft der Musikfreunde, Vienna's prestigious music society, the composer worked hard to complete a varied programme of new works, including a new string quartet and his magnificent Piano Trio in E flat. The concert was well attended, and brought in much needed receipts to swell Schubert's bank balance. But in the papers there was deafening silence. Vienna's critics were more interested in the pyrotechnics of Paganini. Even Schubert himself would blow a great deal of money for a top-price ticket for a once-in-a-lifetime chance to see the violinist in action.
One key work from this year is the profound piano duet, the Fantasy in F, which Schubert dedicated to Princess Caroline Esterhazy. There is strong evidence that Schubert was in love with her, and that she was something of a muse to his romantic yearnings. It's not clear if the princess either reciprocated, or was even aware of his feelings for her!
Donald concludes this week's look at the life, loves and friendships of Franz Schubert with what is possibly his last completed work, the show-stopping aria written at the request of the opera singer Anna Milder-Hauptmann. This is The Shepherd on the Rock, a work in which the shepherd expresses his hopes for the spring - a spring which the composer would never live to see.
More episodes
Next
You are at the last episode