Main content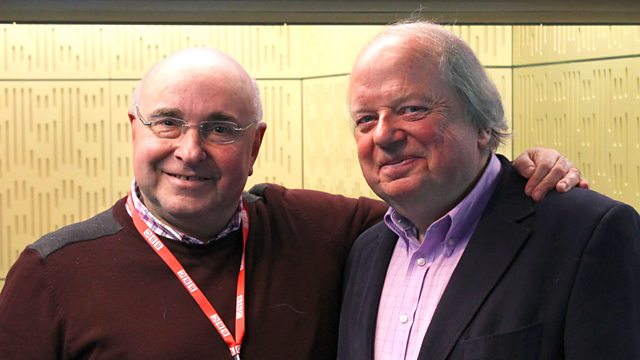 Tuesday - Rob Cowan with John Sergeant
With Rob Cowan. Essential CD of the Week: Inspirales - Hillel Zori (cello), Arnon Erez (piano); Artist of the Week: Maurizio Pollini; Rob's Essential Choice: Beethoven: Mass in C.
9am
A selection of music, including the Essential CD of the Week: 'Inspirales' - Hillel Zori (cello) and Arnon Erez (piano), CELLO CLASSICS CC1030. We also have our daily brainteaser at 9.30.
10am
Artist of the Week: Maurizio Pollini
10.30am
Rob's guest this week is the television and radio journalist and broadcaster, John Sergeant. John has worked as a war reporter in Vietnam and Israel, and has presented BBC Radio 4 programmes Today and The World at One. From 1992-2000 he served as the BBC's Chief Political Correspondent, and then became the Political Editor of ITN. One of his most memorable moments was when he waited outside the British embassy in Paris for Mrs Thatcher, in the hope of hearing her reaction to the first ballot in the party leadership contest of 1990, only to be pushed aside by her press secretary when Thatcher emerged from the building. For this broadcast, he won the British Press Guild award for the most memorable broadcast of the year. After retirement from political journalism, John's appearances on programmes such as Strictly Come Dancing and Have I Got News for You have made him a sought-after participant in television comedy and satire shows. He is currently filming a new documentary in which he explores Indian railways.
11am
Rob's Essential Choice:
Beethoven
Mass in C, Op. 86
Maria Keohane (soprano), Margot Oitzinger (mezzo), Thomas Hobbs (tenor), Sebastian Noack (baritone)
Kammerchor Stuttgart
Hofkapelle Stuttgart
Frieder Bernius (conductor)
CARUS.
Today's Brainteaser Answer - Who's Singing?
Bryn Terfel.
The music played:
Schubert
Der Doppelgänger (Schwanengesang)
Bryn Terfel (baritone)
Malcolm Martineau (piano)
SAIN DCDC 4035