Main content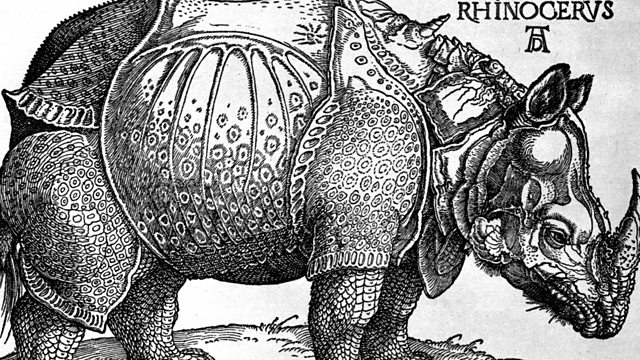 Albrecht Durer: Printing Press Native
Journalist Charlotte Higgins reveals how German Renaissance artist Albrecht Durer's international reputation and wealth derived from his genius with the medium of print.
Albrecht Dürer - the artist who depicted the stout Rhinoceros (1515) or the Young Hare (1502) or the Self Portrait in the image of Christ (1500) - was the first truly international artist. No artist before him had been a famous name around Europe in his own lifetime. What brought him that fame was the print: reproducible art sprung from brand new technology. Dürer was someone who we might refer to today as a "printing press native". While Michelangelo was covering the vast ceiling of the Sistine Chapel with a single fresco, Dürer was making numerous small, reproducible prints that he could sell across Europe. He spent years of his life on the road, managing his business and his brand - his famous AD monogram stamped on every sheet.
Recorded in his hometown of Nuremberg, Charlotte finds out why Dürer always returned there, between travels north to the Netherlands or south to Venice. Nuremberg was then a trading hub in the heart of the Holy Roman Empire and humming with printing presses - not long before Dürer was born in 1471, Johannes Gutenberg had built the first printing press in Mainz, a town 70 miles away from Nuremberg. Dürer's skill and prowess with woodcut and engraving would lead him to use the very technology that was creating multiple books for brilliant, beautiful single sheet images.
First broadcast in January 2014
Charlotte Higgins is Chief Arts Writer for the Guardian and author of the recent "Under Another Sky: Journeys in Roman Britain.
Contributors include the artists Antony Gormley and Deanna Petherbridge, Professor in History of Art at Cambridge, Jean Michel Massing, Curator of German Prints at the British Museum, Giulia Bartrum and Durer experts who Charlotte met in Nuremberg.