Main content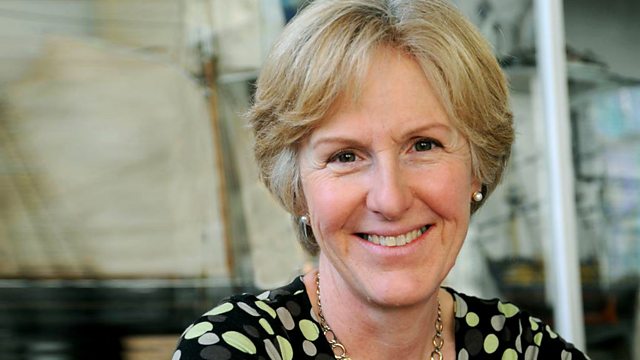 Presented by Catriona Young. Including pianist Rudolf Buchbinder performing Beethoven's Appassionata Sonata, Haydn's E flat Sonata and Schubert's final Sonata in B flat.
Rudolf Buchbinder performs pinnacles of the piano output - Beethoven's Appassionata Sonata, Haydn's E Flat, and Schubert's final Sonata in B Flat. Presented by Catriona Young
1:01 AM
Haydn, Joseph [1732-1809]
Keyboard Sonata No.52 in E Flat Hob XVI/52
1:20 AM
Beethoven, Ludwig van [1770 -1827]
Piano Sonata No.23 in F Minor, Op.57 'Appassionata'
1:44 AM
Schubert, Franz [1797-1828]
Piano Sonata No.21 in B flat D960
2:24 AM
Schubert, Franz [1797-1828]
Impromptu No.2 in E Flat D899
2:29 AM
Strauss (ii), Johann [1825-1899]
Paraphrase of 'An der schonen blauen Donau', Op.314
Rudolf Buchbinder (piano)
2:34 AM
Bach, Carl Philipp Emanuel (1714-1788)
Concerto for flute and strings in G major (Wq.169)
Robert Aitken (flute), CBC Vancouver Orchestra, Mario Bernardi (conductor)
3:01 AM
MacDowell, Edward (1860-1908)
Suite for large orchestra in A minor (Op.42)
Eastman-Rochester Orchestra, Howard Hanson (conductor)
3:21 AM
Mozart, Wolfgang Amadeus (1756-1791)
Exsultate, jubilate - motet for Soprano and Orchestra (K.165)
Ragnhild Heiland Sørensen (soprano), Norwegian Radio Orchestra, Takuo Yuasa (conductor)
3:36 AM
Mendelssohn, Felix (1809-1847)
Sonata for piano in E major (Op.6)
Sveinung Bjelland (piano)
4:01 AM
Palestrina, Giovanni Pierluigi da [c.1525-1594]
Litaniae de Beata Virgine Maria (6 parts)
Studio de Musique Ancienne de Montréal, Christopher Jackson (director)
4:07 AM
Abel, Carl Friedrich (1723-1787)
Symphony in C major, Op.10/4
La Stagione, Frankfurt, Michael Schneider (conductor)
4:17 AM
Bach, Johann Sebastian (1685-1750)
Prelude and Fugue in A minor (BWV.543)
David MacDonald (organ)
4:26 AM
Musorgsky, Modest (1839-1881)
Khovanschina - overture
Slovenian Radio and Television Symphony Orchestra, Samo Hubad (conductor)
4:32 AM
Chaminade, Cécile (1857-1944)
Automne (Op.35 No.2)
Valerie Tryon (piano)
4:39 AM
Vivaldi, Antonio (1678-1741)
Concerto in A major (RV.335), 'The Cuckoo'
Elizabeth Wallfisch (baroque violin), Australian Brandenburg Orchestra, Paul Dyer (director)
4:49 AM
La Rue, Pierre de (c.1460-1518)
O salutaris hostia - motet
Netherlands Chamber Choir, Paul van Nevel (conductor)
4:53 AM
Puccini, Giacomo (1858-1924)
Intermezzo - from Manon Lescaut
Netherlands Radio Philharmonic, Kenneth Montgomery (conductor)
5:01 AM
Foulds, John [1880-1939]
Sicilian Aubade
Cynthia Fleming (violin), BBC Concerto Orchestra, Ronald Corp (conductor)
5:07 AM
Scarlatti, Alessandro (1660-1725)
Concerto Grosso no.1 in F minor
Tafelmusik Baroque Orchestra, Jeanne Lamon (conductor)
5:15 AM
Part, Arvo [b.1935]
The Woman with the Alabaster box for chorus
Erik Westbergs Vocal Ensemble
5:22 AM
Weber, Carl Maria von (1786-1826)
Bassoon concerto in F major (Op.75)
Juhani Tapaninen (bassoon), Finnish Radio Symphony Orchestra, Jukka-Pekka Saraste (conductor)
5:40 AM
Franck, César (1822-1890)
Prelude, Chorale and Fugue (M.21)
Robert Silverman (piano)
6:00 AM
Haydn, Joseph [1732-1809]
Quartet for strings (Op.33'2) in E flat major "Joke"
Escher Quartet: Adam Barnett-Hart & Wu Jie (violins), Pierre Lapointe (viola), Dane Johansen (cello)
6:19 AM
Califano, Arcangelo (1st half of c.18th)
Sonata a quattro in C major, for 2 oboes, bassoon and continuo Ensemble Zefiro
6:29 AM
Walton, William (1902-1983)
Concerto for Violin and Orchestra
James Ehnes (violin); Vancouver Symphony Orchestra; Bramwell Tovey (conductor).
More episodes
Next
You are at the last episode