Main content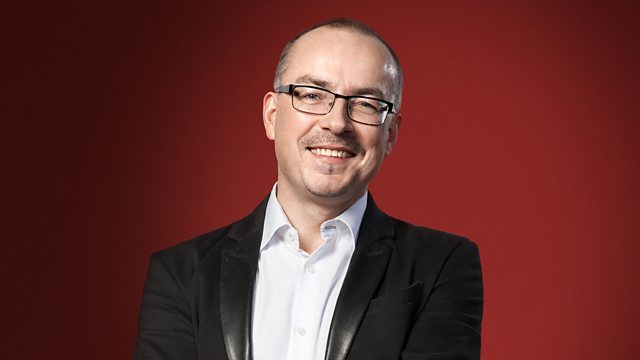 Building a Library: Monteverdi: L'incoronazione di Poppea
With Andrew McGregor. Building a Library: Monteverdi: L'incoronazione di Poppea; Early string music in recent recordings; Disc of the Week: Beethoven: Cello Sonatas Nos 1-5.
9.05am
Delius in Norway
GRIEG arr. DELIUS: Norwegian Bridal Procession Op. 19 No. 2
DELIUS: Paa Vidderne (On the mountains); Two Songs from the Norwegian; Sleigh Ride; Folkraadet (The People's Parliament); On Hearing the First Cuckoo in Spring; Eventyr (once upon a time)
Ann Helen Moen (soprano), Bergen Philharmonic Orchestra, Sir Andrew Davis (conductor)
CHANDOS CHSA5131 (Hybrid SACD)
Grieg: From Holberg's Time, Lyric Pieces, Works for Piano
GRIEG: Lyric pieces etc
Hakon Austbo (piano)
BERLIN CLASSICS 0300559BC (2CD budget)
Piano Music by William Alwyn
ALWYN: Fantasy-Waltzes; Funeral Rites for the Death of an Artist; Bicycle Ride; Piece for Piano; Sonata alla toccata; The Weather Vane
CARWITHEN: Sonatina
Mark Bebbington (piano)
SOMM SOMM0133 (CD mid-price)
Early and Late: Music from Denmark, Greenland and the Faroe Islands
TRAD: Various Danish, Greenlandic and Faroese pieces
GLERUP: objets/decalages
GUDMUNDSEN-HOLMGREEN: Together or Not
RASMUSSEN: Accvire
Gaman: Rune Tonsgaard Sorensen (violin), Bolette Roed (recorder), Andreas Borregard (accordion)
DACAPO 6220640 (Hybrid SACD)
HAGEN, Lars Petter: Norwegian Archives; The Artist's Despair Before the Grandeur of Ancient Ruins; Tveitt-Fragments; Funeral March over Edvard Grieg; To Zeitblom – Concerto for Hardanger Fiddle and Orchestra
Gjermund Larsen (fiddle), Oslo Philharmonic Orchestra, Rolf Gupta (conductor)
AURORA ACD5074 (CD)
9.30am Building a Library
Top recommendation:
MONTEVERDI: L'incoronazione di Poppea
Emanuela Galli (Poppea), Roberta Mameli (Nerone), Jose Maria Lo Monaco (Ottone), Xenia Meijer (Ottavia), Ian Honeyman (Arnalta), Raffaele Costantini (Seneca), La Venexiana, Claudio Cavina (conductor)
GLOSSA GCD920916 (3CD mid-price)
DVD Recommendation:
MONTEVERDI: L'incoronazione di Poppea
Philippe Jaroussky (Nerone), Danielle de Niese (Poppea), Anna Bonitatibus (Ottavia), Max Emanuel Cencic (Ottone), Les Arts Florissants, William Christie (conductor)
VIRGIN 0709519 (2 DVD)
10.30am New Releases
Geoffrey Smith and Mahan Esfahani discuss recent releases of repertoire from Dowland to Telemann
Jacobean Lute Music
DOWLAND: A Fancy; The Battle Galliard; Mr John Langton's Pavan
ROBINSON, T: Merry Melancholy; A Galliard; Walking in a Country Towne; A Gigue; Spanish Pavan; A Gigue; A Toy; Row Well you Mariners
JOHNSON: Pavin; Fantasia
BATCHELAR: Mounsiers Almaine; Prelude; La jeune fillette; Courante; Pavin
HELY: Fantasia; Saraband
GAULTIER: Courante; Cloches; Courante
Jakob Lindberg (lute)
BIS BIS2055 (Hybrid SACD)
Antonio Bertali - Sonatas
BERTALI: Sonata XII a 4; Sonata a due violini e gamba II; Chaconne; Sonata a due violini e gamba III; Sonata II a 4; Sonata a due violini; Sonata a due violini fagotto IV; Sonata I; Sonata in d a 4
William Dongois (cornett, cornettino, mute cornett and director), Le Concert Brise
ACCENT ACC24260 (CD)
BIBER: Fidicinium sacro-profanum, Sonatas I-XII (complete)
Gunar Letzbor (violin, direction), Ars Antiqua Austria
CHALLENGE CLASSICS CC72575 (Hybrid SACD)
Telemann: Double Concerti for Wind and Strings
TELEMANN: Concerto TWV 52:e2; Concerto TWV 52:G1 in G; Concerto TWV 53:D5 in D; Concerto TWV 52:e3 in E minor; Concerto TWV 52:G2 in G; Concerto TWV 52:e1 in E minor
Rebel, Jorg-Michael Schwarz
BRIDGE BRIDGE9421 (CD)
11.30am
The Sacred Spirit of Russia
Russian choral music
Glen Miller (basso profundo), Conspirare, Craig Hella Johnson (conductor)
HARMONIA MUNDI HMU807526 (Hybrid SACD)
Russian Treasures
GRECHANINOV: Now the Powers of Heaven Op. 58 No. 6 "Nine sili nebesniya"
RACHMANINOV: Nunc Dimittis; Vespers Op. 37: Priiditepoklonimsia; Heruvimskaya pesn; We Hymn Thee (Tebe Poyem); Bogorodice Devo; Vespers Op. 37: Blazhen muzh; Otche nash; Vespers Op. 37: Vzbrannoy Voyevode
GOLOVANOV: Heruvimskaya pesn; Slava Ottsu (Yedinorodni); Otche nash 'Our Father' Op. 9 No. 3
CHESNOKOV: Svete tihiy; We Hymn Thee (Tebe Poyem); Heruvimskaya pesn
KALINNIKOVVIKTOR: Svete tihiy
TCHAIKOVSKY: The Crown of Roses
KEDROV: Otche nash (Our Father)
Tenebrae, Nigel Short (conductor)
SIGNUM SIGCD900 (CD mid-price)
GORECKI: From Church Songs
The Cracow Singers, Wlodzimierz Siedlik (conductor)
DUX DUX0805 (CD)
11.45am Disc of the Week
Beethoven: Cello Sonatas
BEETHOVEN: Cello Sonatas Nos. 1-5 (complete) and variations; Horn Sonata in F major Op. 17
Steven Isserlis (cello), Robert Levin (fortepiano)
HYPERION CDA67981/2 (2CD mid-price)