Main content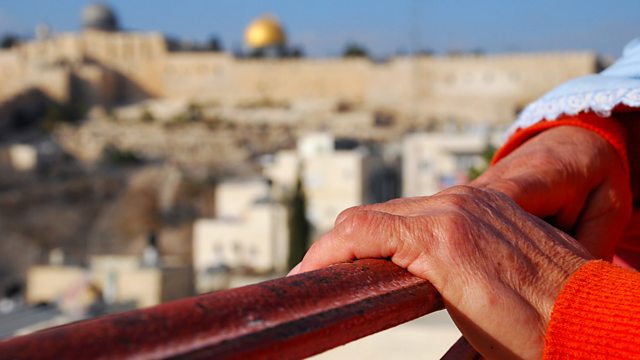 The Brick
Rasha makes a frustrating and exhausting journey from her Palestinian town to Jerusalem. Along the way she discovers some painful truths, in Selma Dabbagh's compelling story.
Rasha Khory is a Palestinian woman on her way to Jerusalem to run some errands for her mother, but she also has her own secret mission, visceral to her sense of identity. All too swiftly Rasha finds herself thwarted, injured and discovering some unwelcome home truths about her beloved father. What choices will she make? A compelling portrait of Palestinian life by Selma Dabbagh.
Directed by Sarah Bradshaw
Notes
Selma Dabbagh is a British Palestinian writer based in London. Her first novel, 'Out of It', was published by Bloomsbury to widespread critical acclaim from The Sunday Telegraph to The Morning Star. Her short stories have appeared in anthologies published by Granta, International PEN and the British Council. This is Selma's first play for radio. She is currently working on a second novel.
Last on
Planning, Preparation and Palestine
Have you ever had one of those days that make you want to scream out of sheer frustration?  Have you ever asked someone 'if-you-wouldn't-mind–possibly-just-helping-me-do-this-teeny-little-thing' only to make matters worse?  If any of that sounds familiar, then Selma Dabbagh's first radio play The Brick could strike a chord.
This piece is part of The Innovation Strand, an initiative that invites BBC staff from other broadcast disciplines into radio drama to broaden their experience and perhaps offer something slightly different to the Afternoon Drama slot.  Previous Innovation Strand plays have included docudrama, conceptual art and high comedy.
Having worked in the Middle East and enjoyed Selma's first novel, we met up and got down to planning and preparing a few different plot lines.  With guidance and advice from the managerial team, we submitted an idea that passed.  When I mentioned to a colleague at the Arabic Service what I was doing, we started planning for a film crew to interview contributors and film the recording for their flagship Arts TV programme, 'Afaq' or Horizon.
The story is set in and around Jerusalem where Rasha Khory (played by the brilliant Sirine Saba) is a young woman with 3 seemingly simple tasks to complete for her mother (Nina Wadia).  She must light a candle in church, deliver a bag of lemons and buy a plastic sheet.  However, Rasha has another, more visceral, secret mission: to retrieve one of her beloved father's handmade bricks from the back garden of her former family home, inside the city wall of Jerusalem  with the help of an unsuspecting tourist (Anton Lesser).  Now this all might seems pretty simple, but if you're Palestinian what should be a short taxi ride can sometimes take many hours.  Rasha finds herself negotiating permits, road blocks, children and checkpoints – and along the way she learns some shocking home truths about the late father she idolises.
Sarah Bradshaw is the Commissioner for International News Training at the BBC College of Journalism.
Sirine, Jude and Souad during recording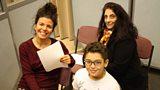 Credits
| Role | Contributor |
| --- | --- |
| Rasha | Sirine Saba |
| Alan | Anton Lesser |
| Mrs Khory | Nina Wadia |
| Mrs Oud | Souad Farres |
| Dr Mansour | Peter Polycarpou |
| Shehadi | Zubin Varla |
| Elias | Amir El-Masry |
| Sara | Georgie Fuller |
| Walid | Jude Edriss |
| Writer | Selma Dabbagh |
| Director | Sarah Bradshaw |
| Producer | Sarah Bradshaw |
Broadcast