Main content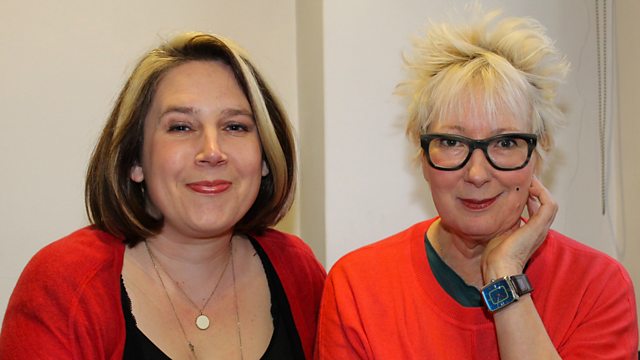 Weekend Woman's Hour: Resolutions; Rape Crisis; Caring for an ex
Jenny Eclair and Viv Groskop on New Year resolutions. Visiting a Rape Crisis centre. Caring for an ex-partner in ill health. Everlasting menopause. Judith Tebbutt. Elif Shafak.
Jenny Eclair and Viv Groskop on New Year resolutions. We visit a Rape Crisis centre. Caring for an ex-partner in ill-health: Woman's Hour listener, Rachel and Emily Holzhausen from Carers UK discuss the issues.
Women behind the scenes in the music industry: we talk to Creative Director at Beggars Music Amy Morgan, Mandy Parnell who's mastering engineer at Black Saloon and Jo Charrington, Senior Vice President of A&R at Capital Records.
Everlasting menopause: Diana Gaines, who still has symptoms in her seventies, and Dr Jane Woyka who specialises in advising and treating women on the menopause, discuss.
Judith Tebbutt's story of kidnap, hostage and survival. Elif Shafak and Alev Scott about the lives of women in one of the MINT economies, Turkey.
Presented by Jane Garvey
Produced by Catrina Lear
Edited by Jane Thurlow.
Last on
Rape Crisis Centre in London
Goverment statistics released early last year reported that 28% of women who are victims of the most serious sexual offences never tell anyone about it. The Rape Crisis movement believe that only around 15% of women and girls who experience sexual violence ever report to the police. So why do so few women disclose what has happened? Why don't they go to the police and what does a Rape Crisis centre offer as an alternative that led to 78,000 calls in the last year? Jenni went to a Rape Crisis centre in London to investigate.
Rape Crisis for women
Survivors UK for men
Victim Support for women and men
Listen again: Jenni Murray visits a Sexual Offences Investigation Team in Hertfordshire to see how they deal with allegations of sexual violence
Women in the Music Industry
British female artists have dominated the music industry over recent years with Emeli Sande, Adele, Susan Boyle and Amy Winehouse leading the way in album sales. But what about on the other side of the mixing desk?  What do the women do behind the scenes? What goes on in the world of A&R, what do you do as a record producer and how does an engineer spend her day? Jenni talks to three women at the top of their game within the world of music. Guests: Jo Charrington, Amy Morgan and Mandy Parnell.
The Everlasting Menopause
To women of a certain age the symptoms of the menopause can become  depressingly familiar:  hot flushes, night sweats, and often  that's just the half of it. A  lucky few  will escape scot  free, most of us will probably brace ourselves for  some symptoms at some stage but how many of us  expect to still be getting  sweats and flushes in  our sixties and beyond..? Sheila talks to Diana Gaines, a sufferer in her seventies, and to Dr Jane Woyka who specialises in advising and  treating women on the  menopause.
Listen to our 2010  Menopause Special
How helpful are New Year's resolutions?
Just one week into the New Year and those who haven't already broken their New Year's resolutions are struggling with them. So why do we bother with the annual promises of self-improvement? Jane talks to comedian Jenny Eclair and writer Viv Groskop.
Caring for an ex-partner
With an increasing divorce rate and ageing population, the number of single people in need of care in the UK is on the rise. One consequence of this is that more and more individuals are taking on the care of an ex-partner. But what emotional difficulties come with the role? And what legal barriers stand in the way? Jane talks to Emily Holzhausen from Carers UK and Rachel, who took on the primary care of her ex-husband three and a half years ago after he was diagnosed with terminal cancer.
Judith Tebbutt
In September 2011, Judith Tebbutt was snatched by Somali pirates from a beach resort in Kenya where she was holidaying with her husband, and taken to Somalia where she was held hostage in harsh and humiliating conditions. She believed her husband David had been injured in the attack, but that he would quickly find her and pay her ransom. Only after weeks in a cramped, dirty room did she receive a phone call from her son Ollie, telling her that David had been killed. After six months of incarceration, deprivation and near starvation, Jude was returned to her family. She shares her story of remarkable courage and strength, and tells us how she is trying to rebuild her life back home.
Judith Tebbutt A Long Walk Home, published by Faber and Faber, was released in paperback last week.
MINT Economies: Turkey
In the last of the Woman's Hour discussions about the reality for women in each of the emerging MINT economies of Mexico, Indonesia, Nigeria, and Turkey, today Jenni Murray turns to Turkey to find out why women's economic participation is the lowest of all the MINT countries? Despite being one of the world's fastest growing economies only one in four women are in or looking for work. Jenni is joined by the writers and commentators Elif Shafak and Alev Scott.


Listen to our items on the situation for women in the other MINT economies:

Credits
| Role | Contributor |
| --- | --- |
| Presenter | Jane Garvey |
| Interviewed Guest | Mandy Parnell |
| Interviewed Guest | Jo Charrington |
| Interviewed Guest | Amy Morgan |
| Interviewed Guest | Diane Gaines |
| Interviewed Guest | Jane Woyka |
| Interviewed Guest | Jenny Eclair |
| Interviewed Guest | Viv Groskop |
| Interviewed Guest | Emily Holzhausen |
| Interviewed Guest | Judith Tebbutt |
| Interviewed Guest | Elif Shafak |
| Interviewed Guest | Alev Scott |
| Producer | Catrina Lear |
| Editor | Jane Thurlow |
Broadcast

Podcast
Women's voices and women's lives - topical conversations to inform, challenge and inspire.