Main content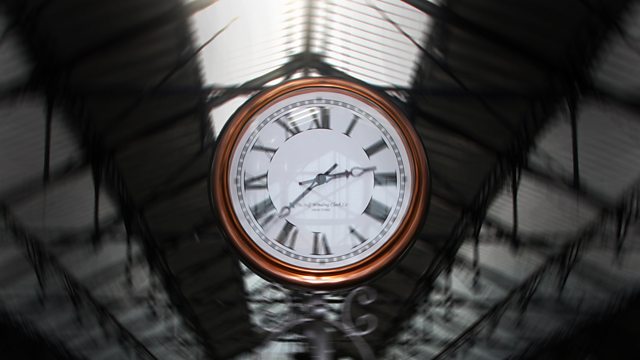 Passing the Time of Day
A sequence of poetry, prose and music on the theme of the duration of a day, with readings by Sally Phillips and Jonathan Keeble.
Today's Words and Music takes the duration of a day as its theme, with different times pinpointed as a snapshot into characters' literary lives. So Ralph from Stephen King's Insomnia is woken by birdsong at 5.15, Elizabeth Bennett takes an ill-advised early morning walk, and Jerome K Jerome's 3 Men have enormous trouble finding the 11.05 to Kingston. A big furry, stripy tiger unexpectedly comes to tea, and Henry James celebrates the agreeable time between mid-afternoon and dusk. By seven o'clock the evening is in full swing with a lavish party over at Jay Gatsby's, while Louisa May Alcott's Little Women are too distressed to go to bed. There is poetry too, with Rossetti's Silent Noon, Emma Saiko's evocative poem about waking from an afternoon nap, and a teacher in DH Lawrence's poem Last Lesson of the Afternoon who can't wait for the bell to ring. TS Eliot depicts dusk in his Preludes, and Dorothy Aldis' narrator quietly sets the supper table for her family.
The music also highlights different times of day, beginning with a dawn chorus from Janequin, and Strauss's Morning Papers. Bach's Coffee Cantata for mid-morning, and Arnold's Day Dreams for after lunch. The evening section features Strauss's Der Abend, Harbison's Remembering Gatsby and Purcell's One charming night from The Fairy Queen. The programme ends with Bridge's setting of Shakespeare's 43rd sonnet, which suggests that sometimes you can see most clearly when you are asleep. Extracts are read by Sally Phillips and Jonathan Keeble.
Producer - Ellie Mant.
Music Played
Timings (where shown) are from the start of the programme in hours and minutes
Harry Kemp

Towards Dawn, reader Jonathan Keeble

Stephen King

Insomnia, reader Sally Phillips

Peter Goldsworthy

Razor, reader Jonathan Keeble

Jane Austen

Pride & Prejudice, reader Sally Phillips

Eleanor Farjeon

School-Bell, reader Jonathan Keeble

Lloyd Roberts

Only an Office, reader Sally Phillips

A. A. Milne

Winnie the Pooh, reader Sally Phillips

Jerome K. Jerome

Three Men in a Boat, reader Jonathan Keeble

Dante Gabriel Rossetti

Silent Noon, reader Sally Phillips

Knut Hamsun

Hunger, reader Jonathan Keeble

Harry Graham

Luncheon, reader Sally Phillips

Emma Saiko

Summer, reader Sally Phillips

Judith Kerr

The Tiger who came to Tea, reader Jonathan Keeble

D. H. Lawrence

Last Lesson of the Afternoon, reader Sally Phillips

Henry James

Portrait of a Lady, reader Jonathan Keeble

Peter Dale

Half-Light, reader Jonathan Keeble

T. S. Eliot

Preludes, reader Sally Phillips

O. Henry

The Four Million, reader Jonathan Keeble

Dorothy Aldis

Setting the Table, reader Sally Phillips

F. Scott Fitzgerald

The Great Gatsby, reader Jonathan Keeble

Amy Levy

At a Dinner Party, reader Sally Phillips

Mary Elizabeth Braddon

Aurora Floyd, reader Jonathan Keeble

Louisa May Alcott

Little Women, reader Sally Phillips

William Shakespeare

Sonnet 43, reader Jonathan Keeble

Producer's Note

Today's Words and Music takes the duration of a day as its theme, with different times pinpointed as a snapshot into characters' literary lives. So Ralph from Stephen King's Insomnia is woken by birdsong at 5.15, Elizabeth Bennett takes an ill-advised early morning walk, and Jerome K Jerome's 3 Men have enormous trouble finding the 11.05 to Kingston. A big furry, stripy tiger unexpectedly comes to tea, and Henry James celebrates the agreeable time between mid-afternoon and dusk. By seven o'clock the evening is in full swing with a lavish party over at Jay Gatsby's, while Louisa May Alcott's Little Women are too distressed to go to bed.  There is poetry too, with Rossetti's Silent Noon, Emma Saiko's evocative poem about waking from an afternoon nap, and a teacher in DH Lawrence's poem Last Lesson of the Afternoon who can't wait for the bell to ring. TS Eliot depicts dusk in his Preludes, and Dorothy Aldis' narrator quietly sets the supper table for her family. <?xml:namespace prefix = o ns = "urn:schemas-microsoft-com:office:office" />

 

The music also highlights different times of day, beginning with a dawn chorus from Janequin, and Strauss's Morning Papers. Bach's Coffee Cantata for mid-morning, and Arnold's Day Dreams for after lunch. The evening section features Strauss's Der Abend, Harbison's Remembering Gatsby and Purcell's One charming night from The Fairy Queen. The programme ends with Bridge's setting of Shakespeare's 43rd sonnet, which suggests that sometimes you can see most clearly when you are asleep. 

 

Producer: Ellie Mant