Main content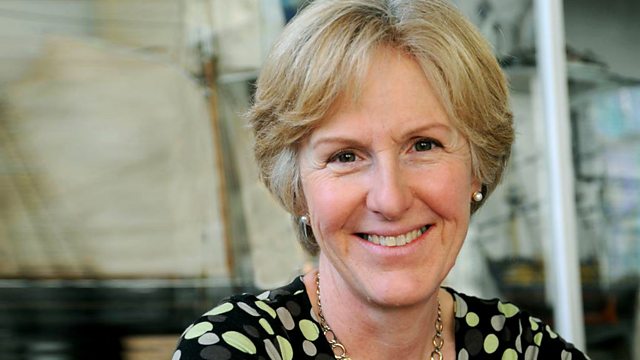 12/01/2014
Catriona Young's selection includes a programme of music by Walton, Rubbra, Bruch and Korngold performed at the 2013 BBC Proms by the BBC Philharmonic under John Storgards.
Catriona Young presents a programme of Walton, Rubbra, Bruch and Korngold from BBC Proms 2013 with BBC Philharmonic and John Storgårds
1:10 AM
Walton, William [1902-1983]
Orb and sceptre - coronation march
BBC Philharmonic, John Storgårds (conductor)
1:19 AM
Rubbra, Edmund [1901-1986]
Ode to the Queen for voice and orchestra (Op.83);
Susan Bickley (mezzo-soprano), BBC Philharmonic, John Storgårds (conductor)
1:32 AM
Bruch, Max [1838-1920]
Concerto for violin and orchestra no. 1 (Op.26) in G minor;
Vilde Frang (violin), BBC Philharmonic, John Storgårds (conductor)
1:55 AM
Brustad, Bjarne [1895-1978]
Eventyr suite for violin solo
Vilde Frang (violin),
1:58 AM
Korngold, Erich Wolfgang [1897-1957]
Symphony (Op.40) in F sharp major;
BBC Philharmonic, John Storgårds (conductor)
2:49 AM
Touchemoulin, Joseph (1727-1801)
Sinfonia in C major
Neue Düsseldorfer Hofsmusik
3:11 AM
Bach, Johann Christoph Friedrich (1732-1795)
Pygmalion, cantata for bass and orchestra
Harry Van der Kamp (bass), Das Kleine Konzert, Hermann Max (conductor)
3:44 AM
Ravel, Maurice (1875-1937)
Miroirs
Martina Filjak (piano)
4:16 AM
Sor, Fernando [1778-1839]
Introduction and variations on a theme from Mozart's Magic Flute (Op.9)
Ana Vidovic (guitar)
4:26 AM
Handel, Georg Friedrich (1685-1759)
Alceste: Gentle Morpheus, son of night
Emma Kirkby (soprano), Academy of Ancient Music, Andrew Manze (director)
4:35 AM
Schumann, Robert (1810-1856)
Adagio and allegro in A flat (Op.70), for horn or other and piano
Li-Wei (cello) , Gretel Dowdeswell (piano)
4:45 AM
Tavener, John (b. 1944)
Funeral Ikos (The Greek funeral sentences) for chorus
Norwegian Soloists' Choir, Grete Helgerød (conductor) in the Church of the HolSpirit, Copenhagen, from Copenhagen Choir Festival 1994
4:51 AM
Schubert, Franz (1797-1828)
Overture in the Italian Style (D.590)
Saarbrücken Radio Symphony Orchestra, Marcello Viotti (conductor)
5:01 AM
Smetana, Bedrich (1824-1884)
Overture - The Bartered Bride
Melbourne Symphony Orchestra, Jorge Mester (conductor)
5:08 AM
Dvorák, Antonín (1841-1904)
From 'Rusalka': Song to the Moon
Yvonne Kenny (soprano), Melbourne Symphony Orchestra, Vladimir Kamirski (conductor)
5:15 AM
Chopin, Fryderyk [1810-1849]
Polonaise-fantasy for piano (Op.61) in A flat major
Yulianna Avdeeva (piano)
5:29 AM
Lopes-Graca, Frenando [1906-1994]
Portuguese Dances, Op 32 (1941)
Portuguese Symphony Orchestra, Wolfgang Rennert (conductor)
5:36 AM
Weber, Carl Maria von (1786-1826)
Divertimento assai facile for guitar and fortepiano (J.207) (Op.38)
Jakob Lindberg (guitar), Niklas Sivelöv (fortepiano)
5:48 AM
Telemann, Georg Philipp (1681-1767)
Concerto for flute and orchestra in D major
Wilbert Hazelzet (flute), Musica Antiqua Köln, Reinhard Goebel (conductor)
6:00 AM
Hummel, Johann Nepomuk (1778-1837)
Rondo brillant for piano and orchestra in A major (Op.56)
Rudolf Macudzinski (piano), Slovak Radio Symphony Orchestra, Ludovít Rajter (conductor)
6:21 AM
Grieg, Edvard (Hagerup) [1843-1907]
4 Psalms for baritone and mixed voices (Op.74)
Estonian Philharmonic Chamber Choir, Paul Hillier (conductor)
6:42 AM
Bach, Carl Philipp Emanuel (1714-1788)
Sonata in D major (Wq.83/H.505)
Les Coucous Bénévoles.
Credit
| Role | Contributor |
| --- | --- |
| Performer | BBC Philharmonic |