Main content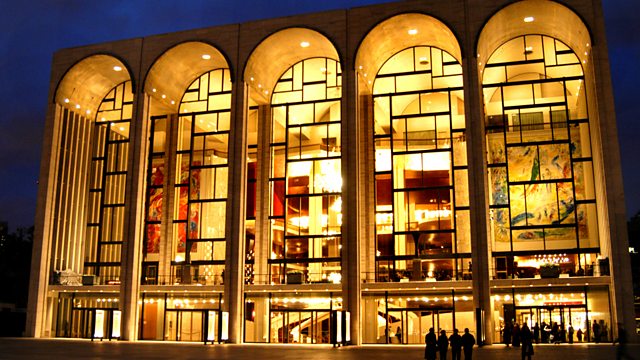 J Strauss II: Die Fledermaus
Live from the Metropolitan Opera in New York, Johann Strauss II's operetta Die Fledermaus, with Jane Archibald as Adele and Christopher Maltman as Eisenstein. Adam Fischer conducts.
Live from The Metropolitan Opera House in New York, Johann Strauss II's classic operetta Die Fledermaus, where a Viennese high-society party - and a jail - set the scene for a picaresque tale of mixed identities, seduction and revenge. The cast is led by Susanna Phillips as Rosalinde and Christopher Maltman as Eisenstein. Adam Fischer conducts the Met's orchestra and chorus.
Rosalinde.....Susanna Phillips (Soprano)
Adele.....Jane Archibald (Soprano)
Orlofsky.....Anthony Roth Costanzo (Countertenor)
Eisenstein.....Christopher Maltman (Baritone)
Alfred.....Michael Fabiano (Tenor)
Dr Falke.....Paulo Szot (Baritone)
Frank.....Patrick Carfizzi (Baritone)
Frosch.....Danny Burstein (Actor)
Dr Blind.....Mark Schowalter (Singer)
Natalie.....Maria D'Amato (Soprano)
Faustine.....Jean Braham (Soprano)
Hermine.....Anne Nonnemacher (Soprano)
Melanie.....Andrea Coleman (Mezzo-soprano)
Freddie.....Nathan Carlisle (Tenor)
Herr Jakob Schmidt.....Jeffrey Mosher (Tenor)
Rolf Gruber.....Earle Patriarco (Baritone)
Max Detweiller.....Timothy Breese Miller (Baritone)
New York Metropolitan Opera Orchestra
New York Metropolitan Opera Chorus
Adam Fischer (Conductor).
Synopsis
Act I
Vienna, New Year's Eve, 1899. Outside the Eisenstein home, the tenor Alfred serenades his old flame Rosalinde, who is now married to Gabriel von Eisenstein. Adele, Rosalinde's chambermaid, wonders how to get the night off to attend a glamorous ball to which her sister has invited her. She tells her mistress she must visit a sick aunt, but Rosalinde refuses to let her go. Alfred appears and declares his love to Rosalinde, who resists him until he begins to sing. Hearing someone coming, she sends Alfred away, but not before he has convinced her to let him return later. Eisenstein and his lawyer, Blind, arrive from a session in court: Eisenstein has been sentenced to eight nights in jail for striking a police officer and must begin his term that very night. He furiously dismisses Blind. His friend Falke arrives and urges Eisenstein to delay going to jail until morning and instead join him at the ball, which is being given by the wealthy Prince Orlofsky. Falke tells Eisenstein to bring along his infamous pocket watch to charm the ladies. While Eisenstein changes, Falke invites Rosalinde to the ball as well, telling her that if she comes in disguise, she'll be able to observe her husband flirting with other women. Rosalinde rejects the idea but changes her mind when Eisenstein appears in full evening dress. She joins Adele in a bittersweet farewell to Eisenstein as he heads off to "prison." Her resentment growing, she then tells Adele to go see her "aunt" and receives the ardent Alfred. Their rendezvous is interrupted by the prison warden Frank, who mistakes Alfred for the man he has come to arrest. Rosalinde persuades Alfred to save her name by posing as her husband, and Frank carts him off to jail.
Act II
In the ballroom of Prince Orlofsky's villa, the guests discuss their host, who has a habit of always paying one guest to try to make him laugh—usually in vain. Orlofsky enters and expresses his doubts that Falke's promised evening of entertainment will brighten his spirits, but proclaims his guests free to do anything they like. Adele arrives—to the surprise of her sister Ida, a dancer in a hit musical show, who claims she never invited her. Ida worries Adele isn't classy enough to attend the ball, so they decide she'll pretend to be a Russian actress named Olga. Eisenstein enters, posing as a Frenchman, per Falke's instructions. When he meets Adele, he identifies her as his wife's chambermaid, but she laughs him off. Frank appears, also posing as a Frenchman, and he and Eisenstein become fast friends. Frank is so smitten with "Olga" that he pretends to be a theatrical producer to impress her. Finally Rosalinde arrives, disguised as a Hungarian countess. Spotting her husband flirting with her chambermaid, she sings an impassioned ode to her betrayed homeland. When a smitten Eisenstein starts flirting with her, she steals his pocket watch. With midnight approaching, Falke tells the guests how he earned the nickname of Dr. Fledermaus: one drunken evening, his best friend Eisenstein played a practical joke on him that involved a bat costume. Waiters arrive with champagne, and the crowd toasts drink, love, and brotherhood until the stroke of midnight, when the new century begins. While the guests dance through the night, Eisenstein keeps pursuing Rosalinde in an attempt to retrieve his watch, but when the clock strikes six he is forced to race off to jail.
Act III
At the prison, Frosch the jailer tries to keep order, vexed by the late arrival of his boss, Frank, and by the nonstop singing of Alfred in cell number 12. Frank finally appears, giddy from champagne and enraptured by memories of his magical evening posing as an impresario. He is followed by Ida and Adele, who hopes Frank might further her stage aspirations. Hearing someone at the door, Frank sends the two women off and admits Eisenstein, who says he has come to serve his sentence. He is surprised to learn his cell is already occupied by a man who claims to be Eisenstein and who was found in Eisenstein's apartment with Rosalinde. Blind arrives, claiming he was summoned by the man in cell 12. Determined to obtain an explanation from the impostor, Eisenstein snatches Blind's cloak, glasses, and wig to disguise himself as the lawyer. At that moment, Rosalinde rushes in. She tries to secure Alfred's release and asks "Blind" to press divorce charges against her errant husband, but is offended when he seems to take Eisenstein's side. Eisenstein removes his disguise and accuses his wife of promiscuity, at which point Rosalinde produces his watch. Both lament the impasse to which they've come, admitting that divorce would be a shame since they really do love each other. Falke appears to gloat over the success of his plan, only to find the couple falling into each other's arms—and to see Adele, Frank, and Frosch happily embarking on new theatrical careers. As Falke bemoans that all his efforts were in vain and his life is a failure, Orlofsky arrives with his guests in tow just in time to hear the story—and breaks into hysterical laughter. All sing a final paean to the joys of champagne.