Main content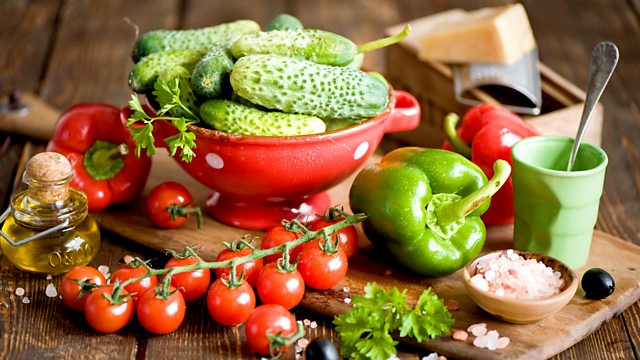 The 2014 BBC Food and Farming Awards
Sheila Dillon presents the 2014 BBC Food and Farming Awards. From Best Takeaway to Best Food Market Producer, the judges reveal the 'best of the best' in British food and drink.
Sheila Dillon presents this year's BBC Food & Farming Awards. From Best Takeaway to Best Food Market producer, the judging team reveal the "best of the best" in British food and drink.
At a ceremony described by Jamie Oliver as the "Oscars of the food world", Sheila and her co-host, cook and food writer Valentine Warner, take us through the stories of the finalists and announce this year's winners.
It's the climax of a process that started with Radio 4 listeners sending in thousands of nominations in ten different categories. It took the team of experts six months to sift through, select finalists and then embark on a food adventure across the UK.
As the programme explains, to find the winners, each judge visited the finalists as they produced, cooked and sold their food and drink. At the ceremony at St George's theatre in Bristol the outcome of that work was revealed by award givers Jamie Oliver, Raymond Blanc, Mary Berry and Mitch Tonks. It's a story and a programme that will leave you inspired..... and perhaps a little peckish.
Producer: Dan Saladino.
Last on
Food and Farming Awards 2014 - The Winners
Best Local Food Retailer
Edge & Son Butcher (Wirral):  A fifth generation butchers that places great emphasis on animal welfare, rare breeds and provenance. Rare among butchers these days Edge and Son have their own slaughterhouse, allowing them to work closely with farmers within a 25-mile radius of the shop. They also work with schools in the area, helping pupils to understand food production.  
Other finalists: Veasey Fishmonger (East Sussex) and The Courtyard Cheese Shop (Settle, North Yorkshire) 

 
Cook of the Year
Tony Mulgrew (Halifax):  Tony's drive and determination to produce the best food possible at Ravenscliffe High School has led him to become a major figure in the Soil Association's Food for Life Partnership and to become one of the founders of Incredible Edible Todmorden. His approach to school menus and growing food in schools has attracted interest from around the world.
Other finalists: Deborah Kerrmath (Manchester) and Highland Hospice (Inverness)

 
Best Food Producer
Gigha Halibut (Scotland):  Based on the Scottish island of Gigha, the team specialise in the artisan production of sustainable Scottish Atlantic halibut which is smoked to order using oak chips made from whisky barrels from the Kilchoman Distillery on Islay. A technique of rearing the fish in land-based tanks means wild stocks are protected and no antibiotics are required in the process.
Other finalists: Abernethy Butter (Co Down, Northern Ireland) and Capreolus Fine Foods (Dorset)

 
Best Drinks Producer
Thornbridge (Derbyshire): Considered one of the pioneers of the UK's craft beer movement, the Thornbridge brewery was originally based in the grounds of Thornbridge Hall near Bakewell, Derbyshire. Its first beers went on sale in February 2005 and from developing IPA's and blonde beers, they also added barrel aged editions.
Other finalists: Gusbourne Estate (Kent) and BrewDog (Scotland)

 
Outstanding Farmer of the Year
Neil Darwent (Frome):  Neil has been a dairy farmer since 1986 and set up Free Range Dairy in 2011, a UK farmer-led initiative to promote the value of milk from pasture, and has been building strategic partnerships with researchers and scientists to deliver new thinking and practical measures for dairy farmers.
Other finalists: Luke Hasell (Bristol) and Steven Jack (Inverness)

 
Best Food Market
Aberystwyth Farmers Market (Aberystwyth):  Launched in May 2000, the market has up to 30 stalls every first and third Saturday in the month. In 2010 the market was voted among the Top 10 Farmers' Market in the UK by the Times – the only Welsh market to be included.
Other finalists: Brockley Market (London) and St Georges Market (Belfast)
 
 
Best Street Food/Takeaway
The Pembrokeshire Beach Food Company (Pembrokeshire):  Aiming to celebrate the produce of the area, combining foraged seashore ingredients with fresh local seafood, the Pembrokeshire Beach Food Company has five mobile Beach Shacks offering signature local dishes.
Other finalists: Tongue n Cheek (London) and Chilli Daddy (Bristol)

 
Best Initiative in British Food
Feeding the 5,000 Food Waste Charity:  All three campaigns – Feeding the 5,000, Gleaning Network and The Pig Idea – are about big ideas and big action to change the supply chain in favour of low-waste food production and consumption.
Other finalists: Community Shop and Sainsbury's for its work on fish stocks
 

Food Personality of the Year
Cyrus Todiwala: the celebrity chef who is a passionate advocate of British produce, and committed to education and training. His recent work includes The Incredible Spice Men for BBC Two in 2013, and a book, Mr Todiwala's Bombay: Recipes And Memories From India, published in October 2013.
 
 
Derek Cooper Lifetime Achievement Award
Tom Jaine, the organiser of the Oxford Food Symposium and editor of The Good Food Guide, whose work has contributed to increasing our knowledge of good practice in food, gastronomy and farming. Among his many achievements, Tom Jaine is also the author of four books; he has written for national newspapers; and presented The Food Programme on Radio 4. He was Editor of the annual Good Food Guide from 1989 to 1994. He owns Prospect Books, a micro-publisher focusing on the history, culture and ethnology of food.

 
BBC Radio Bristol Search for a Food Hero Award
Elizabeth Carruthers, Head of Redcliffe Children's Centre. Elizabeth runs a food project for the Under 4s.
The BBC is not responsible for the content of external websites
Broadcast

Featured in...
A selection of programmes and clips relating to the 2014 Food and Farming Awards
Why the Food & Farming Awards matter - Dan Saladino