Main content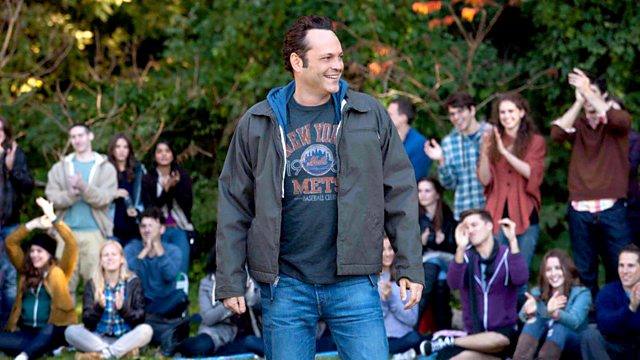 Delivery Man; Graeme Simsion; comedy in Indonesia
Graeme Simsion on the surprise success of his book The Rosie Project, a review of the film Delivery Man, and an assessment of stand-up comedy and popular music in Indonesia.
With Mark Lawson
The Rosie Project by Graeme Simsion was one of the surprise hits of last year and has been published in more than thirty countries. The protagonist Don Tillman - a socially-awkward professor who may be on the autistic spectrum - has devised a questionnaire to ask women, in his quest to find love. Graeme Simsion explains how the book started life as a screenplay, and talks about writing a romantic novel from an unexpected perspective.
Delivery Man stars Vince Vaughn playing another slacker character. This time he's an under-achiever who finds out that his donations to a fertility clinic have resulted in his fathering over five hundred children, with 142 of them legally trying to find out their father's identity. Journalist and broadcaster Katie Puckrik reviews.
The artist Jeff Koons broke the record for the highest price paid for a work of art by a living artist, when his Balloon Dog (Orange) sold at auction for $58,405,000 last year. A major retrospective of Koons's work is opening at the Whitney Museum of Art in New York in 2014. Jeff Koons talks to Mark about whether the vast prices paid for his art affect his work, and explains why we should not be afraid of contemplating contemporary art work.
As part of Radio 4's MINT Season, looking at the world's new group of emerging economies, Front Row is exploring the cultural life of the four MINT countries. Today we move to Indonesia: arts and culture critic Amir Sidharta tells Mark about the rising trends in Indonesian standup comedy and popular music.
Mark asks some of Front Row's 2013 People Of The Year about their plans for 2014. David Suchet discusses whether he will play King Lear, and Eleanor Catton talks about the film of her Booker Prize winning novel, The Luminaries.
Producer: Rebecca Nicholson.
Last on
Chapters
Graeme Simison

Duration: 10:46

The Delivery Man

Duration: 05:16

Mint: Indonesia

Duration: 04:51

Jeff Koons

Duration: 06:59

Graeme Simison

Author Graeme Simsion talks to Mark Lawson about the surprise success of his book, The Rosie Project

Delivery Man

Delivery Man stars Vince Vaughn playing another slacker character. Journalist and broadcaster Katie Puckrik reviews.



Jeff Koons

The artist Jeff Koons broke the record for the highest price paid for a work of art by a living artist, when his Balloon Dog (Orange) sold at auction for $58,405,000 last year. A major retrospective of Koons's work is opening at the Whitney Museum of Art in New York in 2014.

MINT Season: Indonesia

Arts and culture critic Amir Sidharta tells Mark about the rising trends in Indonesian standup comedy and popular music.



Credits

| Role | Contributor |
| --- | --- |
| Presenter | Mark Lawson |
| Interviewed Guest | Graeme Simsion |
| Interviewed Guest | Katie Puckrik |
| Interviewed Guest | Jeff Koons |
| Interviewed Guest | Amir Sidharta |
| Interviewed Guest | David Suchet |
| Interviewed Guest | Eleanor Catton |
| Producer | Rebecca Nicholson |

Broadcast