Main content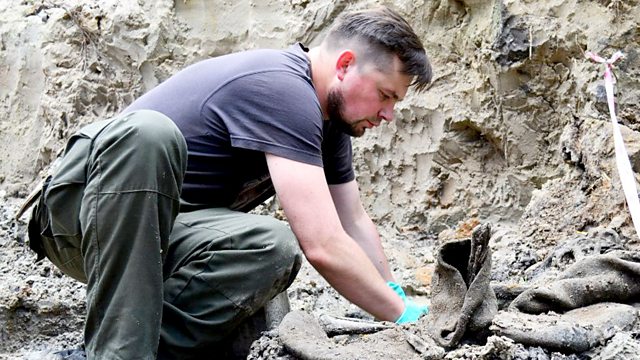 Russia: Digging up the Dead
The story of Russia's volunteer diggers, armed with spades and metal detectors, who search forests and swamps for the remains of Red Army soldiers 70 years after World War Two.
Of the estimated 70 million deaths attributed to World War two, 30 million died on the Russian front. Of those, as many as 4 million Soviet soldiers are still "missing in action". These men - more than the entire population of Ireland or New Zealand - are still unaccounted for.
Despite all the official rhetoric on Victory Day, many in power today would rather not contemplate the fate of these men. They lie forgotten and unrecognised by Russia's top brass and the state.
But as Lucy Ash discovers, a growing number of volunteers, armed with spades and metal detectors, are now searching for the soldiers. Seventy years after World War II, they feel compelled to look for their remains.
Olga Ivishina, a journalist with the BBC Russian Service from the city of Kazan, belongs to this Diggers Movement. While many young Russians professionals spend their holidays on beaches in Thailand, Olga gives up her free time to camp in the forest. Many days she has to wade waist-deep through mud, sometimes in pouring rain, to find the bodies of these fallen soldiers.
Ilya Prokofiev, one of the most experienced diggers, is scathing about what he calls the 'cult' of the Unknown Soldier. "Officials pay tribute at the eternal flame monument every 9th May', and I tell them: 'You're the ones who made this soldier nameless, what are you proud of? Have you no conscience? This soldier had a family, he had children, he had a surname, a name and patronymic, he had a life, he had a love of his own. What are you proud of?".