Main content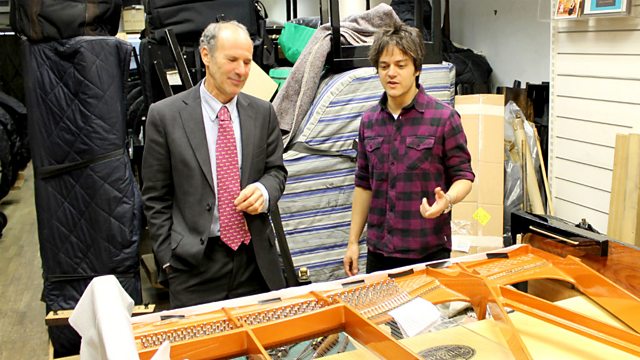 Jamie Cullum visits London's former piano-making hub and looks at the UK's thriving industry.
Jazz pianist Jamie Cullum explores the piano's place in modern life. With recent stories about the decline of the piano, Jamie delves behind the myths to find out about the history of the instrument he is most passionate about and looks at how the piano industry is still thriving in the UK.
In the first episode, Jamie begins by focusing on the piano itself and traces the story of an old abandoned piano that he rescued from a street corner. His journey leads him to the London Borough of Camden where piano historian Dr. Alastair Laurence takes him on a tour around the area that, only a century ago, was the world centre of the piano making industry.
After exploring some of the remaining piano retailers in the neighbourhood and playing London's most out of tune piano, Jamie travels to the Yorkshire Dales to visit one of the few places left in the country where pianos are still being made from scratch.
At Newark College, Jamie talks to the course leader and students at the last piano tuning course in the country and learns some surprising facts about the physics of piano tuning.
Finally, Jamie visits the Brontë's old family home to play on the sisters' own piano that has been carefully restored.
Produced by Andrea Rangecroft.
A Folded Wing production for BBC Radio 4.
More episodes
Previous
You are at the first episode