Main content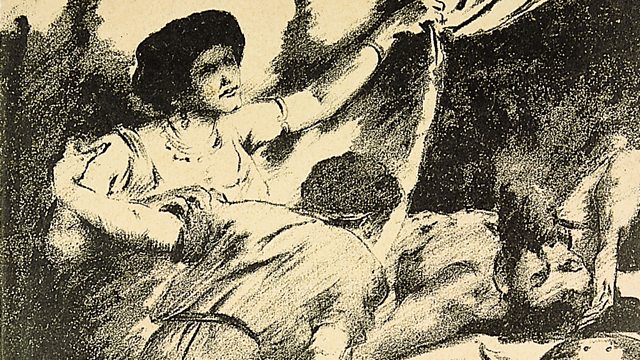 Richard Strauss: Elektra
Elektra by Richard Strauss, from the Royal Opera House, Covent Garden, conducted by Andris Nelsons. Christine Goerke sings the title role.
Elektra by Richard Strauss, from the Royal Opera House, Covent Garden, conducted by Andris Nelsons. Christine Goerke sings the title role.
The Greek hero Agamemnon returns home from the Trojan War, only to be murdered by his wife Klytemnestra and her lover, Aegisthus. His daughter, Elektra, has become possessed by a desperate need to revenge her father and will not rest until she has done so. Strauss's music plunges the audience straight into this psychologically intense and violent world, and Charles Edwards's production highlights the moral decay at its heart.
Presented by Louise Fryer.
Elektra.....Christine Goerke (Soprano)
Chrysothemis.....Adrianne Pieczonka (Soprano)
Klytemnestra.....Michaela Schuster (Soprano)
Confidante.....Louise Armit (Mezzo-soprano)
Trainbearer.....Marianne Cotterill (Soprano)
Overseer.....Elaine Mckrill (Soprano)
Young Servant.....Douglas Jones (Tenor)
Old Servant.....Jeremy White (Bass)
Orestes.....Iain Paterson (Bass)
Orestes's Companion.....John Cunningham (Bass)
Aegisthus.....John Daszak (Tenor)
First Maid.....Anna Burford (Mezzo-soprano)
Second Maid.....Catherine Carby (Mezzo-soprano)
Third Maid.....Elizabeth Sikora (Mezzo-soprano)
Fourth Maid.....Elizabeth Woollett (Soprano)
Fifth Maid.....Jennifer Check (soprano)
Royal Opera House Orchestra
Royal Opera House Chorus
Andris Nelsons (Conductor)
Last on
Music Played
Johann Sebastian Bach

Harpsichord Concerto no.5 in F minor, BWV.1056

Performer: Lars Ulrik Mortensen. Ensemble: Concerto Copenhagen.

Bach: Harpsichord Concertos Vol. 2.
CPO.
04.

Claudio Monteverdi

Mass for four voices

Performer: Margaret Phillips. Choir: The Sixteen. Conductor: Harry Christophers.

Franz Schubert

Fantasy in C major, D.934

Performer: Alina Ibragimova. Performer: Cédric Tiberghien.

Wolfgang Amadeus Mozart

String Quartet in B flat major, K 589

Ensemble: Jerusalem Quartet.
Synopsis
A bloody and bitter family feud precedes the action of Elektra. The two sons of Pelops, Atreus and Thyestes, became deadly enemies after Atreus punished Thyestes' adultery with his wife by feeding his brother's children to him at a banquet. Thyestes cursed the house of Atreus and his sole remaining son, Aegisthus†, sought revenge by killing Atreus' son Agamemnon with the help of Agamemnon's wife, Clytemnestra, who he had meanwhile taken as a lover.
Clytemnestra, half-sister of Helen of Troy, had been taken by force by Agamemnon who killed her husband and child. Clytemnestra's and Agamemnon's children were Electra, Chrysothemis, Orestes and Iphigenia, who was sacrificed by her father in order to ensure a safe sea-crossing to Troy. To add insult to injury, on his victorious return, Agamemnon had brought with him the Trojan prophetess Cassandra as one of the spoils of war.
Outside the palace at Mycenae, working women discuss the state of Elektra's mind. Most regard her with hate or derision: only one is prepared to come to her defence – Elektra is a princess after all – and is taken away by the Overseer to be whipped. Elektra appears and, as it is the very hour when Agamemnon was killed, she recalls the murder and implores him to appear to her as a shade. Sensing his presence, she anticipates the celebrations that will take place once he has been avenged by Orest and herself.
Chrysothemis interrupts her sister's thoughts and warns Elektra of a plan to have her locked up. Elektra dismisses the warning, but Chrysothemis begs her to relent in her ongoing hatred and allow both of them to escape from the palace. Chrysothemis wants only to forget the past and find a future for herself as a wife and mother.
Sounds are heard within the palace. Klytämnestra has been disturbed in her sleep by nightmares. She is on her way to meet Elektra to ask her advice. But while Elektra is resolved to speak with her mother, on hearing that the dreams have been of Orest, Chrysothemis will not stay to witness the confrontation. Accompanied by her Confidante and Trainbearer, Klytämnestra appears and, as Elektra's ambiguous  behaviour leads her to believe that her daughter is in a conciliatory mood, she dismisses her attendants.
Klytämnestra questions Elektra as to the nature of the sacrifices and rites that must be observed to rid her of her dreams. Elektra replies in riddles, which allude to the solution. An uncomprehending Klytämnestra is further unsettled by mention of her exiled son. She claims that he has lost his mind while away from his home. Klytämnestra threatens her daughter with punishment and Elektra retaliates with a description of the fate she foresees for her mother: Klytämnestra and Ägisth must be sacrificial victims and slain by Orest, and Klytämnestra will be hounded through the palace by her murderer before she is finally killed.
The Confidante returns with mysterious news, which she whispers to Klytämnestra, causing her to howl with laughter. Elektra, left alone, is unable to understand this change of mood. Chrysothemis brings news that two strangers have brought testimony that Orest has been killed in a chariot race, trampled by his own horses. A young servant calls for horses to take this news to Ägisth who is away from the palace.
Elektra quickly develops a plan to kill her mother and her paramour, and tries to enlist Chrysothemis' help with promises of sisterly affection. Chrysothemis is terrified and when she refuses to take part in the plan, Elektra curses her.
Alone, Elektra decides to carry out the plan herself. She digs for the axe that was used to kill her father and that she has guarded ever since. She is interrupted by the arrival of a stranger. He claims to be the messenger who is to bring the news of Orest's death to the Queen, but as Elektra's identity slowly becomes clear to him, he reveals his own: he is Orest himself, returned to his home to avenge his father's murder. After her joy at seeing her brother alive before her, Elektra flinches from him: the burden of responsibility for avenging her father's death has deeply damaged her. Orest is much disturbed by his sister's condition and affirms the urgency of his task.
Orest's companion comes out of the palace and calls him to action. Once more alone, Elektra realizes she has failed to ensure that Orest uses the axe to kill the murderers. Suddenly, though, she hears the scream of her dying mother. Terrified women run from their quarters. They try to gain access to the palace but are disturbed by the returning Ägisth. Elektra lights his way to the door where he is swiftly killed by Orest.
Chrysothemis, almost unable to bear her excitement at the return of her brother, begs Elektra to join her and Orest in the palace. Elektra can think only of her ultimate responsibility: to lead the people in a dance of victory. But she has achieved her life's goal and the fulfilment is too much for her. She collapses dead. Chrysothemis, left alone, calls for Orest.
Charles Edwards
†Conventional anglicized spellings are used to refer to the mythological Greek characters, but German forms are used for the characters in Hofmannsthal's play and Strauss's opera.
Broadcasts

Featured in...
We broadcast more live and specially-recorded concerts and opera than any other station.