Main content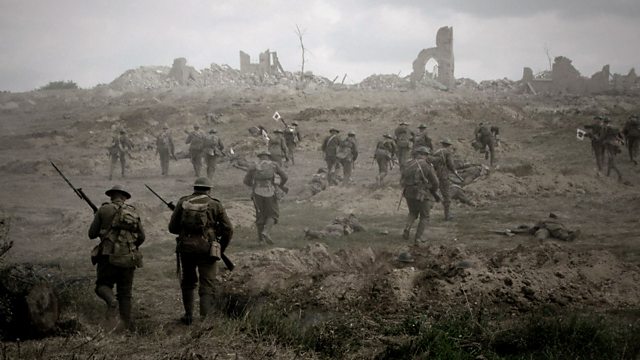 Somme
Poet Paul Farley journeys down the Somme, a river whose sleepy character belies its violent history, in battles from the 1066 invasion to the First World War.
As events are held this month commemorating the Centenary of the Battle of the Somme - when more than one million men were wounded or lost their lives -
Paul Farley journeys down France's sleepiest river whose character belies its violent history.
Paul travels source to sea along the River Somme in northern France, rising in the hills at Fonsommes near Saint-Quentin and flowing quietly westward for 152 miles to empty into the English Channel. The name Somme comes from the Celtic samara, meaning 'tranquility', and the river's course through the Picardy chalk along a constantly gentle gradient gives a clue to its peaceful character.
However, for the past century, the phrase 'the Somme' has been used to sum up and distill the utter futility and waste of the Great War. The Battle of the Somme, which took place during the summer and autumn of 1916, has given the river a lasting infamy and melancholy in language. But the Great War is only one of the conflicts in which this quiet river has found itself the centre of, and the Somme has much deeper historical sources linking it with warfare and the English.
The river has such long-standing associations with the English and warfare that it also flows into Shakespeare, and Henry V, of which the Agincourt campaign is the centerpiece, entering the very heart of our literature.
Paul travels gently downstream from the river's natural source, while shooting the huge historical rapids, and discovers a still and reflective passage at the centre of its tumultuous past.l looks at how the river has also been a conduit to creativity, flowing down towards the open sea and a borderless realm of infinite possibility.
Producer Neil McCarthy.
Last on

Broadcasts