Main content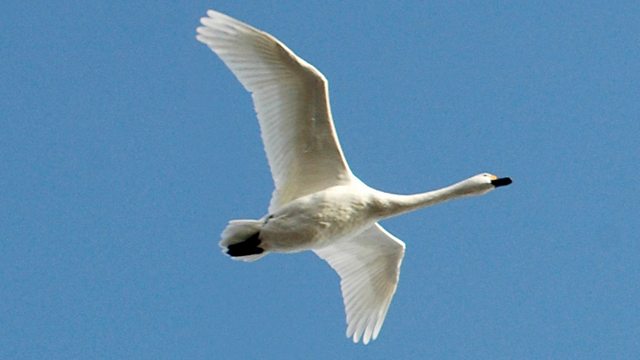 Bewick's Swan
David Attenborough presents the bewick's swan.
Tweet of the Day is a series of fascinating stories about our British birds inspired by their calls and songs.
David Attenborough presents the story of the Bewick's Swan. This year is the 50th anniversary of Bewick Swan studies, begun by Sir Peter Scott, at Slimbridge in Gloucestershire. Bewick Swans return here and to other UK sites each winter to escape the icy grip of the Arctic tundra and studies have identified individuals through their varying bill patterns.
Bewick's swan (Cygnus columbianus)
Webpage image courtesy of RSPB (rspb-images.com)
David Attenborough: My Life In Sound
The Bewick's swan is a bird that instills treasured memories for Sir David, as revealed in the exclusive interview for Radio 4 where he talks about his life in sound.
Podcast
Discover birds through their songs and calls. 265 programmes of 90 seconds, over a year