Main content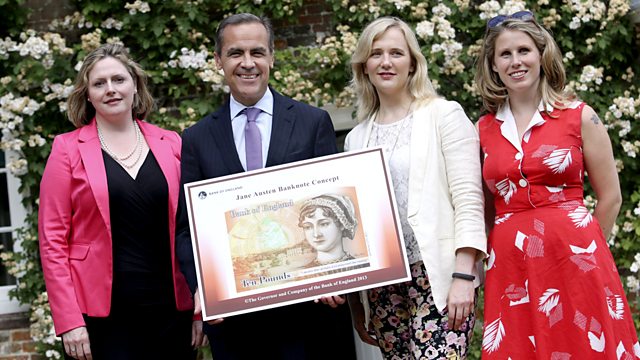 Caroline Criado-Perez, Laura Bates, Allegra McEvedy's perfect hangover food
Feminism 2013 style, introverts v extroverts, and a profile of Mrs Oliphant, the writer of our 15 Minute Drama. Plus, the perfect hangover food. Presented by Jenni Murray.
From the campaign to get Jane Austen on our bank notes to getting girls off Page 3, feminism has taken centre stage in 2013. But as it becomes more mainstream what difficulties has that highlighted and how can those be resolved in the coming year. How can the momentum of the last twelve months be maintained and what campaigns lie ahead.
If you are planning to see in the New Year with a few drinks tonight, then tomorrow could start with some of us at least feeling a bit the worse for wear. So how do you clear away those cobwebs and not least that banging head that accompanies the morning after. The chef Allegra McEvedy has the perfect food for hangovers.
Opposites attract (or so the age-old saying goes) but differing expectations during social occasions can be an issue of contention. If you're a gregarious extrovert that thrives on champagne and small-talk and your partner is a pensive introvert who'd rather snuggle up in front of the fire, how will you navigate the festivities together?
This week's 15 minute drama Hester, is based on the novel by Margaret Oliphant, better known as Mrs Oliphant. She published nearly a hundred novels and her portrayals of provincial life have been compared to the likes of George Eliot. This new dramatisation brings to life the remarkable women portrayed in her novel Hester, first published in 1883.
Presented by Jenni Murray
Produced by Steven Williams.
Edition Editor Beverley Purcell.
Clips

Chapters
Feminism in 2013

Women have taken centre stage in 2013. But what issues unite and divide feminists?

Duration: 16:51

Introverts and Extroverts

Relationship Psychologist Susan Quilliam on why so-called introverts get such bad press.

Duration: 06:54

Cook the Perfect...Hangover Food

Allegra McEvedy prepares 'hangover eggs' - the perfect antidote for a sore head.

Duration: 06:10

Hester

The dramatists of this week's Radio 4 drama Hester discuss novelist Mrs Oliphant.

Duration: 10:44

Feminism in 2013

From No More Page 3 protests outside the Sun HQ to the banning of 'Blurred Lines' on campuses, from Malala's address to the UN to Wendy Davis's-13 hour filibuster in Texas, women have made their mark this year. So what issues unite and divide feminists? What challenges does the movement face? And what are the hopes for the year ahead? Laura Bates is the founder of the

Everyday Sexism Project

, Caroline Criado-Perez ran the successful campaign to

Keep Women on Banknotes

and Reni Eddo-Lodge is a writer and prominent voice in the discussions calling for a wider representation in feminism.

Introverts and Extroverts

Opposites attract (or so the age-old saying goes) but differing expectations during social occasions can be an issue of contention. If you're a gregarious extrovert who thrives on champagne and small-talk and your partner is a pensive introvert who'd rather snuggle up in front of the fire, how will you navigate the festivities together? As we start counting the hours until midnight, Jenni talks to Relationship Psychologist Susan Quilliam to discuss why so-called 'introverts' get such bad press.

Cook the Perfect...Hangover Food

If you are planning to see in the New Year with a few drinks tonight, then tomorrow could start with some of us at least feeling a bit the worse for wear. So how do you clear away those cobwebs and not least that banging head that accompanies the morning after.  The chef Allegra McEvedy is no stranger to a good party and she gives Jenni some advice on the perfect food for hangovers. 

Hester

This week's fifteen minute drama on Radio 4 is Hester, based on the novel by Mrs Oliphant.  Margaret Oliphant, better known as Mrs Oliphant,  published nearly one hundred novels and her portrayals of provincial life have been compared to George Eliot and Anthony Trollope. But over the years Mrs Oliphant has been neglected. This new dramatisation by writers Kate Clanchy and Zena Forster brings to life the remarkable women portrayed in her novel  Hester, first published in 1883.  Jenni speaks to the two dramatists about Mrs Oliphant's life and works and the process of distilling a 200,000 word novel into a 12,000 word play. 

Credits

| Role | Contributor |
| --- | --- |
| Presenter | Jenni Murray |
| Interviewed Guest | Allegra McEvedy |
| Interviewed Guest | Kate Clanchy |
| Interviewed Guest | Zena Forster |
| Interviewed Guest | Susan Quilliam |
| Interviewed Guest | Caroline Criado-Perez |
| Interviewed Guest | Laura Bates |
| Interviewed Guest | Reni Eddo-Lodge |
| Producer | Steven Williams |