Main content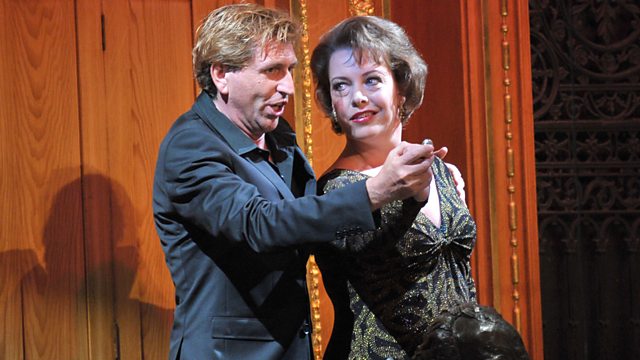 Prom 20: Wagner - Gotterdammerung
A Prom in which the Staatskapelle Berlin under Daniel Barenboim performs the final opera in Wagner's epic Ring cycle: Gotterdammerung.
Wagner 200
Staatskapelle Berlin and Daniel Barenboim at the BBC Proms in the final opera of Wagner's epic Ring Cycle: Götterdämmerung - The Twilight of the Gods.
Recorded at the Royal Albert Hall, London
Presented by Tom Service
Wagner: Götterdämmerung (concert performance, sung in German)
Brünnhilde .... Nina Stemme (soprano)
Siegfried .... Andreas Schager (tenor)
Hagen .... Mikhail Petrenko (bass)
Gunther .... Gerd Grochowski (bass-baritone)
Gutrune / Third Norn .... Anna Samuil (soprano)
Alberich .... Johannes Martin Kränzle (bass-baritone)
Waltraute / Second Norn .... Waltraud Meier (mezzo-soprano)
First Norn .... Margarita Nekrasova (contralto)
Woglinde .... Aga Mikolaj (soprano)
Wellgunde .... Maria Gortsevskaya (soprano)
Flosshilde .... Anna Lapkovskaja (mezzo-soprano)
Royal Opera Chorus
Staatskapelle Berlin
Daniel Barenboim (conductor)
Tom Service presents the final leg of Daniel Barenboim's Ring Cycle with the Staatskapelle Berlin - the first ever complete cycle at the BBC Proms. And it's not a happy ending: Götterdämmerung - The Twilight of the Gods - is the darkest of the four operas. The ecstatic love of Siegfried and Brünnhilde, celebrated at the end of the previous opera, is under threat from the plotting of the cunning Hagen. As the son of Alberich who created the all-powerful golden Ring, Hagen's single purpose is to regain the Ring at all costs. Soon Siegfried's fate is sealed: can Brünnhilde save the world?