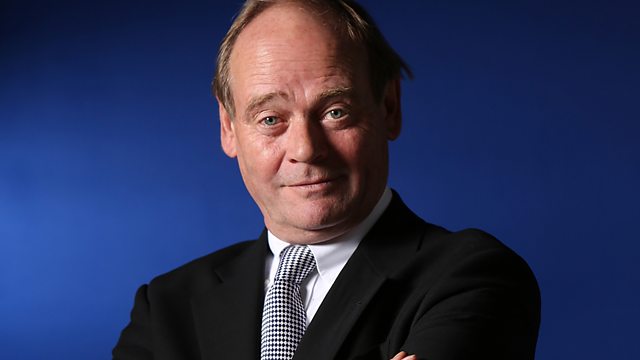 With Great Pleasure at Christmas 2013
John Lloyd is joined by Hugh Laurie, Miriam Margolyes, Julian Rhind-Tutt and Howard Goodall to perform his favourite pieces of writing, comedy and music. A special Christmas edition of With Great Pleasure recorded in front of an audience at the BBC Radio Theatre.
John Lloyd is a comedy guru, the brains behind QI and the producer of Blackadder - and Hugh Laurie revisits his sublime portrayal of the Prince Regent from Blackadder the Third in a couple of previously unperformed pieces written by John. His other choices include a performance by all the cast of a scene from Hay Fever by Noel Coward, in which John made his stage debut while at school.
Taking us through John's life in comedy are sound archive extracts from Julian and Sandy from Round The Horne and Peter Cook from Beyond the Fringe.
Books that have been important in John's life include The Eagle of the Ninth by Rosemary Sutcliff, How The Mind Works by Steven Pinker and poetry collections ranging from Auden to ee cummings. Words of wisdom from Douglas Adams and Viz Top Tips are also quoted.
Howard Goodall plays the song he composed for John's wedding, which is sung by John's daughter.
Producer Beth O'Dea.
Last on
With Great Pleasure recording, l-r John Lloyd, Miriam Margolyes, Howard Goodall, Caitlin Lloyd, Hugh Laurie, Julian Rhind-Tutt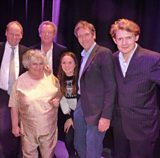 Pieces chosen in the programme
Snow by Louis MacNeice, from Collected Poems, publ. Faber & Faber
The Menu in Mrs Miggins's Coffee House from Blackadder: The Whole Damn Dynasty, publ. Penguin
Aftermyth Of War from The Complete Beyond The Fringe (CD set)
Journey of the Magi by T.S. Eliot, from Collected Poems, publ. Faber & Faber
Pied Beauty by Gerard Manley Hopkins, from Poems publ. Oxford University Press
Viz: Top of the Tips, publ. Dennis Publishing
The Eagle of the Ninth by Rosemary Sutcliff (excerpt), publ. Oxford University Press
Julian and Sandy: Bona Law from The Bona World of Julian and Sandy (CD)
Hay Fever by Noel Coward (excerpt), from Three Plays, publ. Vintage
The Restaurant at the End of the Universe by Douglas Adams (excerpt), publ. Pan Books
Afterliff by John Lloyd and Jon Canter (excerpts), publ. Faber & Faber
Duties of the Prince Regent.. from Blackadder: The Whole Damn Dynasty, publ. Penguin
Song: The Good Morrow by John Donne (words) / Howard Goodall (music)
somewhere I have never travelled, gladly beyond by e. e. cummings, from Complete Poems, publ. Liveright
Excerpt from Sext by W. H. Auden, Part 3 of Horae Canonicae, Collected Shorter Poems, publ. Faber & Faber
How the Mind Works by Steven Pinker (excerpt), publ. Penguin
The Stalled Ox (excerpt), from Saki, The Complete Short Stories, publ. Penguin
Song: Days of Hope by Howard Goodall
Credits
| Role | Contributor |
| --- | --- |
| Presenter | John Lloyd |
| Performer | Hugh Laurie |
| Performer | Miriam Margolyes |
| Performer | Julian Rhind-Tutt |
| Performer | Howard Goodall |
| Producer | Beth O'Dea |