Main content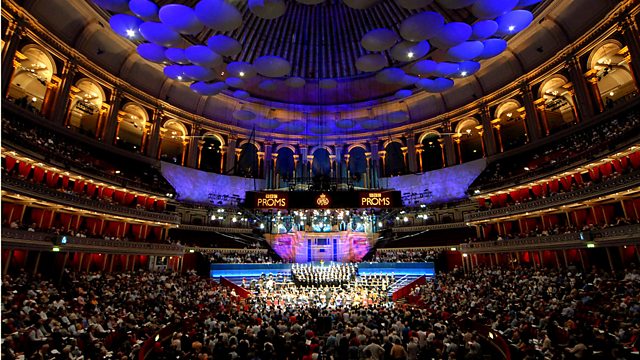 Prom 65: Film Music Prom
A Prom with the BBC Concert Orchestra in film music, by Alwyn, Walton, Bennett, Lucas, Addinsell, Strauss, Ligeti, J Strauss II, Giacchino, Arnold, Goldsmith and Williams.
Film music from British war films dominate the first half including Walton's original music for 'Battle of Britain'. Part 2 is given over to music with a space connection, including the UK premiere of music from the latest Star Trek.
Presented by Petroc Trelawny at the Royal Albert Hall, London
Part 1
Alwyn: The True Glory - March
Walton: Suite - Battle of Britain
Richard Rodney Bennett: Lady Caroline Lamb - Elegy
Lucas: Ice Cold in Alex - March
Addinsell: Warsaw Concerto (from 'Dangerous Moonlight')
Part 2
Strauss: Also sprach Zarathustra - opening
Ligeti: Atmosphères (excerpt)
Johann Strauss II: By the Beautiful Blue Danube - waltz (excerpt)
M. Giacchino: Suite from Star Trek: Into Darkness UK premiere
David Arnold: Independence Day - closing title
Jerry Goldsmith: Alien - closing title
John Williams: Star Wars Suite
Valentina Lisitsa (piano)
Lawrence Power (viola)
BBC Concert Orchestra
Keith Lockhart (conductor)
First broadcast in August 2013.