Main content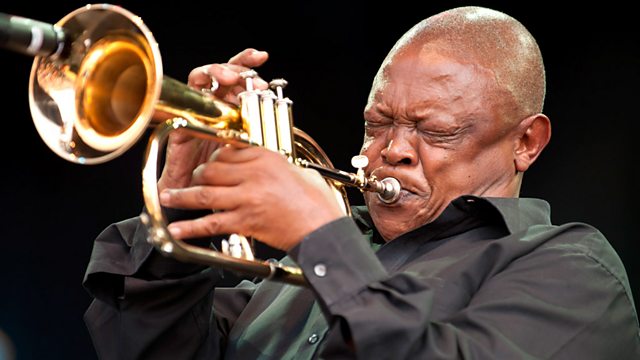 Hugh Masekela
Michael Berkeley's guest is South African trumpeter, composer and singer Hugh Masekela. His musical choices include Louis Armstrong, Frank Sinatra, Bach, Billie Holliday and Ravel.
Hugh Masekela is a jazz legend. Brought up in South Africa during Apartheid, he left the country at 21, and spent the next 30 years in exile, releasing album after album - 43 to date - and performing alongside all the other great musicians of our era: Jimi Hendrix, Janis Joplin, Stevie Wonder, The Who ... He's still making music and touring the world at 74, and Private Passions was lucky enough to catch him on a visit to London.
He talks to Michael Berkeley about his passion for performing, which began when Bishop Trevor Huddleston gave him money to go to buy his first trumpet. Masekela describes vividly the musical culture he grew up in: the townships were awash with music, he says, and there was a competing cacophony of sound. As a child he began piano lessons at four, begging his father to play records before he had the strength to turn the handle of the gramophone. Music took over and he says he's been 'bewitched' ever since. He tells the moving story of how as a teenager he played truant from school and instead spent his days playing with other musicians in recording studios; his father found out and beat him severely, and Hugh ran away from home. But a few weeks later his father visited the studio and heard him play the trumpet. Realising that this was his future, his father forgave him and welcomed him back into the family.
Masekela also talks about his relationship with Nelson Mandela, and how Mandela smuggled a letter out of prison to him, inspiring his anthem (and worldwide hit) 'Bring Him Back Home'. He reveals the disillusionment he feels about South Africa now, and reflects on what would have happened had he stayed there - 'I would have died very young'.
Hugh Masekela's choices include Louis Armstrong, Frank Sinatra, J S Bach, Billie Holliday and Ravel.
First broadcast in December 2013.