Main content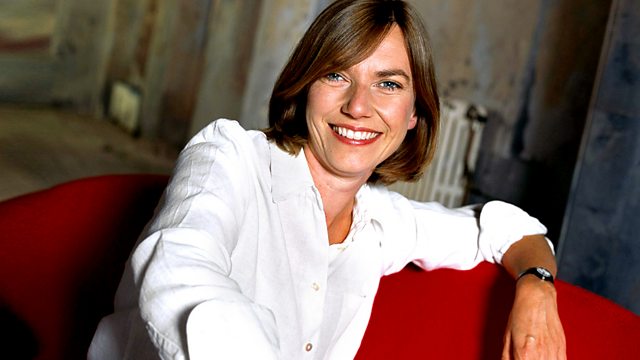 Britten 100: The Rape of Lucretia
Nicholas Collon conducts a Glyndebourne performance of Britten's opera The Rape of Lucretia, with Claudia Huckle in the lead role and Kate Valentine and Allan Clayton as the Chorus.
Britten 100: The Rape of Lucretia from Glyndebourne, with Claudia Huckle in the title role and Kate Valentine and Allan Clayton as the Chorus. Nicolas Collon conducts.
Premiered at Glyndebourne in 1946, Britten's chamber opera is given a new production by Fiona Shaw, described by one critic as "opera at its most nakedly powerful". It is an extraordinary and tightly- focused treatment of a legend which has acquired numerous layers in painting, poetry and drama. Lucretia is raped by the tyrant Tarquinius Superbus, ruler of Rome, and chooses to kill herself rather than live with the shame. The action of the opera is commented on throughout by a Male and Female Chorus who occupy another dimension, at times narrating the story and at times voicing the thoughts of the different characters.
Male Chorus.....Allan Clayton (Tenor)
Lucretia.....Claudia Huckle (Mezzo-soprano)
Female Chorus.....Kate Valentine (Soprano)
Collatinus.....David Soar (Bass)
Junius.....Oliver Dunn (Baritone)
Tarquinius.....Duncan Rock (Baritone)
Bianca.....Catherine Wyn-Rogers (Mezzo-soprano)
Lucia.....Ellie Laugharne (Soprano)
The Glyndebourne Tour Orchestra
Nicholas Collon (conductor).
Synopsis
Act I
The Male Chorus and Female Chorus tell us how the ancient Etruscans seized Rome and how the Etruscan King's son, the warrior Tarquinius Sextus, 'treats the proud city as if it were his whore'.
At an army camp outside the city, the generals Collatinus, Junius and Tarquinius discuss how, the previous night, six generals had ridden back to Rome only to find their wives unfaithful – except for Lucretia, the wife of Collatinus. The cuckolded Junius, jealous of Lucretia's fidelity, mocks and argues with the single Tarquinius.  Junius insists that all women are whores by nature, but the drunken Tarquinius declares that Lucretia is not. 'I'll prove her chaste,' he says, and leaves for Rome.
In an interlude, the Male Chorus describes Tarquinius's ride to Rome. That evening, at Lucretia's house in Rome, she sews while her servants Bianca and Lucia are spinning. Lucretia thinks she hears a knock at the gate and hopes it may be her husband Collatinus, but she finds no one there. 'How cruel men are to teach us love,' she says.
While the three women retire for the night, the Male Chorus and Female Chorus describe the arrival of Tarquinius in Rome and his violent knock on Lucretia's door. Claiming that his horse is lame, he asks Lucretia for wine and lodging. She shows him to a room for the night.
Act II
The Male Chorus and Female Chorus describe the Etruscan domination of Rome. Lucretia is asleep in her bed when Tarquinius approaches. He kisses her and she, dreaming of Collatinus, draws him closer. But when Lucretia wakes and realises it is Tarquinius, she repulses him. They struggle. Tarquinius overcomes Lucretia.
In an interlude, the Male Chorus and Female Chorus interpret the events of the night from their devout Christian viewpoint. The next morning, Lucia and Bianca arrange flowers. Bianca says she heard Tarquinius gallop away before dawn. Lucretia enters and asks Lucia to send for Collatinus, but Bianca tries to stop the messenger. Collatinus arrives with Junius.
Lucretia tells Collatinus what happened. He insists it will not change their marriage, but Lucretia knows differently.
In an epilogue, the Female Chorus  wonders if there is any meaning to these tragic events. The Male Chorus insists that all is made right through Jesus Christ. But the question remains: 'Is it all?'
© Glyndebourne Opera House