Main content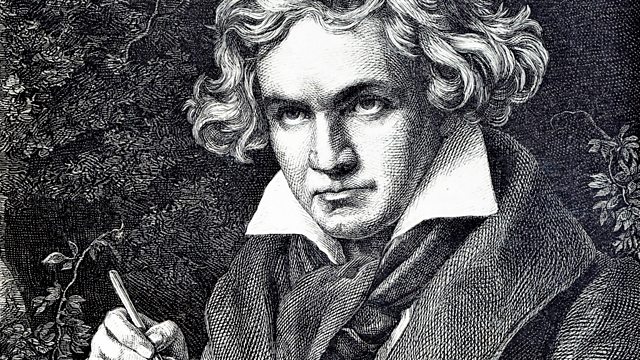 From the Ridiculous to the Sublime
Donald Macleod explains how the success of Beethoven's so-called potboiler, Wellington's Victory led to the revised version of his opera Fidelio.
Donald Macleod explains how the phenomenal success of Beethoven's trashy potboiler Wellington's Victory had positive repercussions; it led to the revised version of Fidelio.
If Bonn had had a child protection unit in the 1770s, its officers would doubtless have been frequent callers at 24 Rheingasse, the Beethoven family home. A neighbour might have heard little Ludwig calling out from the cellar where he had been locked up by his drunkard father Johann, or witnessed one of the regular beatings Johann administered to 'encourage' his son to practice the piano. Yet from this abusive background, Ludwig van Beethoven emerged as the greatest musician of his age - the composer who absorbed the Classical legacy of Haydn and Mozart, then utterly transformed it. This week, Donald Macleod charts the course of this transformation in a series of five snapshots of Beethoven's life and work, from his first attempts at composition to the extraordinary productions of his final years.
Today's programme charts one of the most extraordinary episodes in Beethoven's life, from late 1813 to the end of the following year. For the previous decade, Europe had been dogged by the Napoleonic Wars. Now Napoleon's fortunes were beginning to unravel, and in June 1813, Austria abandoned its neutrality and joined the alliance against the French. In the same month, the French army, fighting under Napoleon's brother, Joseph I, was defeated by Wellington at the Battle of Vitoria. Vienna was awash with a tide of patriotic fervour, and that's when the imperial court mechanician, Johann Nepomuk Mälzel, came to Beethoven with an unusual proposal - would he compose a patriotic piece celebrating Wellington's victory? The work was originally to be written not for orchestra but for the Panharmonicon, a bellows-powered contraption-in-a-case of Mälzel's invention that could reproduce the sounds of a military band. Beethoven agreed, but in the event he produced an orchestral version instead. Premièred at a public concert in December 1813, this fatuous work became an immediate sensation, and several more performances followed. By the law of unexpected consequences, when the management of the Viennese court opera were looking for a new production, they turned to the most successful composer of the moment: Beethoven. They approached him with a view to staging his opera Fidelio, and he agreed, but only on the basis that he would be able to revise it completely - in the process, creating the version most widely performed to this day.