Main content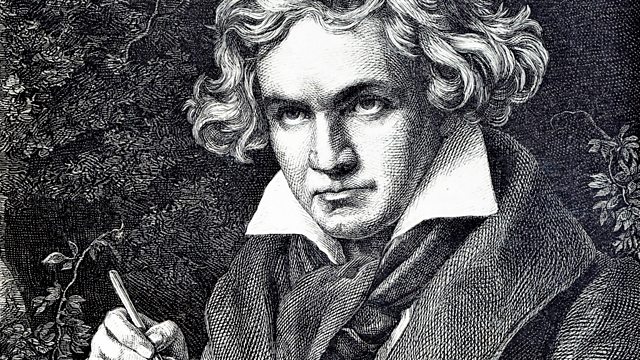 Donald Macleod discusses a four-hour concert Beethoven mounted in 1808, when he unveiled his Fifth and Sixth Symphonies, the Fourth Piano Concerto and other works.
Beethoven unveils his 5th and 6th symphonies, 4th piano concerto and more besides in a four-hour concert in the biting cold of a Viennese December. Donald Macleod asks why.
If Bonn had had a child protection unit in the 1770s, its officers would doubtless have been frequent callers at 24 Rheingasse, the Beethoven family home. A neighbour might have heard little Ludwig calling out from the cellar where he had been locked up by his drunkard father Johann, or witnessed one of the regular beatings Johann administered to 'encourage' his son to practice the piano. Yet from this abusive background, Ludwig van Beethoven emerged as the greatest musician of his age - the composer who absorbed the Classical legacy of Haydn and Mozart, then utterly transformed it. This week, Donald Macleod charts the course of this transformation in a series of five snapshots of Beethoven's life and work, from his first attempts at composition to the extraordinary productions of his final years.
Today's programme homes in on a single day, the 22nd of December 1808, when Beethoven mounted an extraordinary 'benefit' concert - that is, a concert for his own financial benefit, in the Theater an der Wien. He had been petitioning the authorities for months for permission to do this, and eventually he took the only date he could get, despite the fact that it clashed with a major charity event being held on the same evening in another theatre. That, though, turned out to be the least of Beethoven's problems, foremost of which was the temperature inside the auditorium, which he couldn't afford to heat. Then there was the programme; four hours' worth of the most challenging new music - difficult for an audience under the most favourable of conditions, let along listening inside an icebox. To make matters worse, Beethoven had fallen out with the orchestral musicians at a previous concert, and they refused to rehearse with him. The evening concluded with the Choral Fantasia, which the composer had hastily finished off to provide a suitably grand conclusion to the proceedings. In the event, the performance came so badly unstuck that Beethoven had to stop the music halfway through and start again from the top. As one contemporary who shivered his way through the whole evening observed, "one can easily have too much of a good thing".