Main content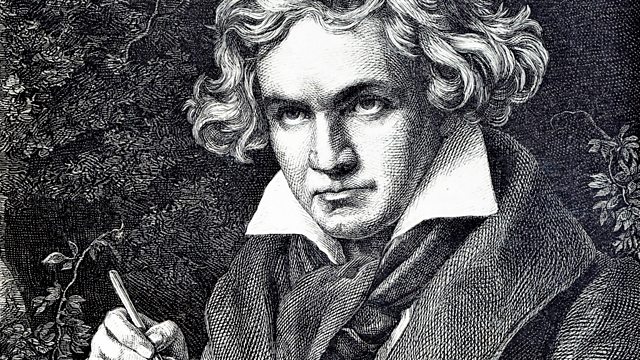 Donald Macleod explores how Beethoven's acceptance of his deafness spawned masterpieces, including his Symphony No 2, three Op 30 violin sonatas and two Op 31 piano sonatas.
For Beethoven, 1802 marked both an emotional nadir and a peak of creativity. Donald Macleod explores how the composer's acceptance of his deafness spawned a string of masterpieces.
If Bonn had had a child protection unit in the 1770s, its officers would doubtless have been frequent callers at 24 Rheingasse, the Beethoven family home. A neighbour might have heard little Ludwig calling out from the cellar where he had been locked up by his drunkard father Johann, or witnessed one of the regular beatings Johann administered to 'encourage' his son to practice the piano. Yet from this abusive background, Ludwig van Beethoven emerged as the greatest musician of his age - the composer who absorbed the Classical legacy of Haydn and Mozart, then utterly transformed it. This week, Donald Macleod charts the course of this transformation in a series of five snapshots of Beethoven's life and work, from his first attempts at composition to the extraordinary productions of his final years.
Today's programme focuses on six months in 1802, when Beethoven, on doctor's orders, took a rest-cure in the tiny, picturesque spa-town of Heiligenstadt. For some years the composer's hearing had been deteriorating but, by 1801, things had started to reach crisis point. In June of that year Beethoven wrote a despairing letter to his childhood friend Franz Wegeler, now a distinguished medic. Wegeler recommended a change of doctor, and it was the new man - Johann Adam Schmidt - who advised Beethoven to abscond to Heiligenstadt to give his hearing a rest away from the noisy bustle of Vienna. Here Beethoven wrote the document known by posterity as the Heiligenstadt Testament - a letter to his brothers, to be read only after his death, in which he expressed despair at his hearing loss but determination nonetheless to fulfil what he felt to be his artistic destiny. His productivity during the summer of 1802 bears witness to that determination; here he wrote or completed his 2nd Symphony, the three violin sonatas Op 30, two of the piano sonatas Op 31, and more besides.