Main content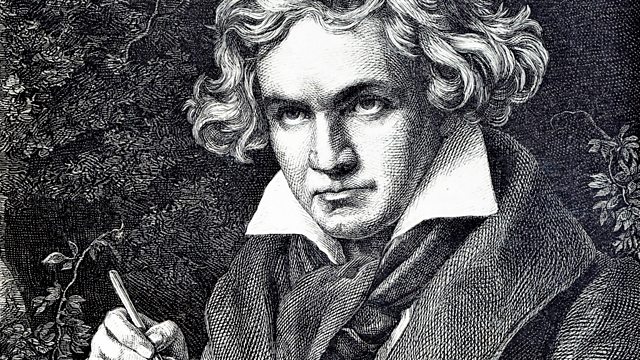 Donald Macleod tells the story of Beethoven's apprentice years in Bonn and presents some of his neglected early works.
Beethoven's home town of Bonn is where he learnt to be a composer. Donald Macleod tells the story of the maestro's apprentice years, and presents some of his neglected early works.
If Bonn had had a child protection unit in the 1770s, its officers would probably have been frequent callers at 24 Rheingasse, the Beethoven family home. A neighbour might have heard little Ludwig calling out from the cellar where he had been locked by his drunkard father Johann, or witnessed one of the regular beatings Johann administered to 'encourage' his son to practice the piano. Yet from this abusive background, Ludwig van Beethoven emerged as the greatest musician of his age - the composer who absorbed the Classical legacy of Haydn and Mozart, then utterly transformed it. This week, Donald Macleod charts the course of this transformation in a series of five extended snapshots of Beethoven's life and work, from his first attempts at composition to the extraordinary productions of his final years.
Today's programme surveys Beethoven's last ten years in Bonn, before his permanent move to Vienna in 1792. Along with his father, the cast of characters includes his grandfather, also named Ludwig, a previous court kapellmeister; his teacher, Christian Gottlob Neefe, who spotted Beethoven's prodigious talent and did everything he could to foster it; his mother, whose death in 1787 left deep scars on the 16-year-old composer; Maximilian Franz, Elector of Cologne and Beethoven's employer in his post as a sprucely liveried court musician; Mozart, with whom Beethoven may or may not have studied briefly; and Papa Haydn, with whom Beethoven was to have an uneasy pupil-teacher relationship in Vienna. The musical soundtrack includes an early piano quartet that Beethoven would later mine for material when he came to write his first published piano sonatas, and two early masterpieces: an ambitious set of 24 Variations on an operatic air by Righini, and the Cantata on the Death of Emperor Joseph II, of which Brahms remarked, when the manuscript resurfaced almost a century later, "it is Beethoven through and through".
More episodes
Previous
You are at the first episode