Main content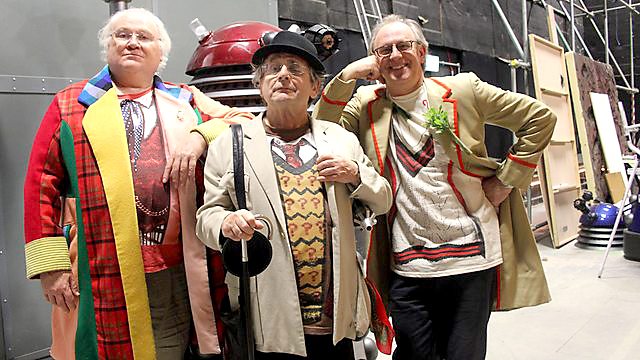 The Five(ish) Doctors Reboot
A star studded special written and directed by Peter Davison. With the 50th anniversary of Doctor Who about to film, the 'Classic' Doctors are keen to be involved. But do they manage it?
Last on

Red Button (Satellite and Cable)
50 years of adventure! Join the Doctor for great clips, trailers, news and fun!
Credits
| Role | Contributor |
| --- | --- |
| Himself | Sean Pertwee |
| Herself | Olivia Colman |
| Himself | Colin Baker |
| Himself | Sylvester McCoy |
| Himself | Louis Davison |
| Herself | Jenna Coleman |
| Himself | Steven Moffat |
| Herself | Janet Fielding |
| Himself | Rhys Thomas |
| Herself | Georgia Moffett |
| Herself | Olivia Darnley |
| Herself | Niky Wardley |
| Herself | Marion Baker |
| Herself | Katy Manning |
| Herself | Louise Jameson |
| Herself | Carole Ann Ford |
| Herself | Deborah Watling |
| Herself | Sophie Aldred |
| Herself | Sarah Sutton |
| Herself | Lalla Ward |
| Himself | John Leeson |
| Herself | Anneke Wills |
| Herself | Lisa Bowerman |
| Himself | Matthew Waterhouse |
| Himself | Jon Culshaw |
| Himself | Paul McGann |
| Herself | Lucy Baker |
| Herself | Binny Baker |
| Herself | Rosie Baker |
| Himself | Peter Jackson |
| Himself | Ian McKellen |
| Himself | John Barrowman |
| Herself | Alice Knight |
| Herself | Sarah Churm |
| Himself | David Tennant |
| Himself | Ty Tennant |
| Himself | Nick Briggs |
| Himself | David Troughton |
| Himself | Frank Skinner |
| Himself | Adam Paul Harvey |
| Himself | Russell T Davies |
| Himself | Christian Brassington |
| Herself | Elizabeth Davison |
| Himself | Derek Richie |
| Himself | Richard Cookson |
| Herself | Heddi-Joy Taylor-Welch |
| Herself | Louisa Cavel |
| Herself | Lauren Kilcar |
| Himself | James DeHaviland |
| Security Guard 1 | Marcus Elliott |
| Security Guard 2 | Michael Houghton |
| Himself | Brad Kelly |
| Himself | Nick Jordan |
| Himself | Barnaby Edwards |
| Himself | Peter Davison |
| Receptionist | Chido Nyashanu |
| Himself | Nicholas Pegg |
| Director of photography | Simon Walton |
| Director | Peter Davison |
| Writer | Peter Davison |
| Executive Producer | Steven Moffat |
| Executive Producer | Brian Minchin |
| Producer | Georgia Tennant |
| Assistant Director | James DeHaviland |
| Assistant Director | Jennie Fava |
| Assistant Director | Jack Wren |
| Camera Operator | Luke Baker |
| Camera Operator | Matt Andrews |
| Camera Assistant | Cai Thompson |
| Camera Assistant | Gethin Williams |
| Camera Assistant | Sarah Jones |
| Boom Operator | Dewi Jones |
| Boom Operator | Tony Bell |
| Makeup Artist | Catrin Thomas |
| Makeup Artist | Ros Wilkins |
| Makeup Artist | Bethan Kate Harris |
| On-line editing | Gary Hewson |
| Re-recording mixer | Owen Thomas |
| Post-production Coordinator | Samantha Price |
| Post-Production Supervisor | Nerys Davies |
| Script Editor | Derek Ritchie |
| Sound Recordist | Deian Humphreys |
| Sound Recordist | Wil Planitzer |
| Sound Recordist | Christian Joyce |
| Editor | Ceres Doyle |
| Editor | Jamie Pearson |
| Production Coordinator | Katie Player |
| Runner | Michael Williams |
Broadcast
Red Button (Satellite and Cable)