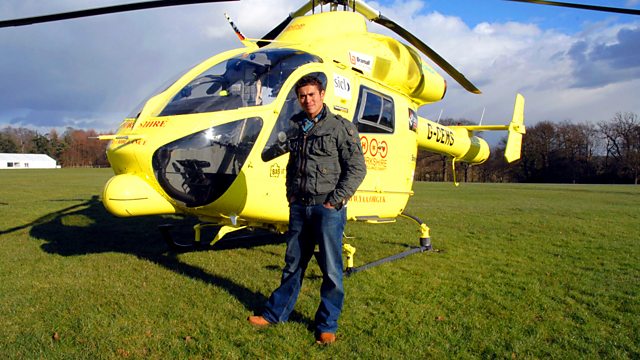 The team stages a bizarre rescue operation for a heart patient who will die if she sits up, and a man celebrating his birthday ends up in hospital.
Last on
More episodes
Previous
You are at the first episode
Behind the TV scenes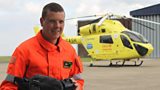 It's been described as one of the best jobs in TV, but making Helicopter Heroes is far from straightforward, as Assistant Producer Matt Richards explains.
From filming fallen rock climbers high in the Yorkshire Dales, to capturing the aftermath of motorway pile-ups, no two days working on Helicopter Heroes are ever the same.
Our BBC team is unique - the only broadcasters who are also full-time helicopter aircrew, trained to assist with navigating and operating the choppers.
Every day starts with the duty video journalist attending a thorough briefing with the rest of the helicopter crew. We'll be told about the weather, military exercises taking place and other potential hazards. 
From the moment the helicopter is scrambled, we have roughly two minutes to start five cameras, put on our flying helmet and strap in. 
In the air we're expected to help with the lookout - looking for other aircraft and assessing landing sites.  Because only one member of the team can fly in the helicopter - the same person must be camera operator, sound recordist, producer and director.
Flying Video Journalists
All the flying VJs are highly trained.  We have qualifications in navigation, aviation fire awareness, first aid and even escaping from a crashed helicopter at sea.
It's a demanding and unpredictable job, but one which allows us to show the incredible work being done by the air ambulance from a first-hand perspective.
We need to be prepared for everything, from being left on the hard-shoulders of motorways to filming on exposed mountain tops. Being part of the small crew, we are of course always willing to help the paramedics if they need an extra pair of hands.
Helicopter Heroes features dramatic real life rescues, often set against the dramatic backdrop of Yorkshire's moors, coast and countryside.
We make 20 shows a year and are now putting the finishing touches to the eighth series.
Using small high definition cameras, three fixed cameras in the aircraft and our specially developed 'Paracams', we are able to capture all the action as it happens, whether on a rainy roadside, or high up in the Dales in a blizzard. 
The stunning aerial shots and air to air sequences are filmed using the same chopper you can see landing on a lighthouse on the BBC One idents.
People stories
Every patient identified on the programme has given his or her consent in writing to our small team of researchers. 
They track their progress and are responsible for follow-up interviews for the programme.
We aim to make Helicopter Heroes as heart-warming as it is powerful, and there's never a shortage of humour, honesty and surprise from the people of Yorkshire.
We've been to air crashes, shootings and countless high speed road crashes but one of the most memorable jobs was when the Helimed crew was called to help a young girl who had been crushed by a lorry near her home in Halifax.
Three year old Katherine Ogden was saved by the skills and speed of the air ambulance and its crew and being able to follow her accident and her recovery was remarkable.
Katherine's family saw being involved with Helicopter Heroes as part of her recovery, and we're still in touch now to see how she's getting on.
Challenging job
 
We hope we also make the UK a safer place in a small way.
As well as passing on important medical information to viewers, some of our footage is used for training by emergency services around the world, most notably film of Helimed team dispatcher Chris Solomons suffering a heart attack on camera. 
His successful resusitation by paramedics James Vine and Lee Davison is now required viewing for thousands of trainee medics and police officers.
Working on Helicopter Heroes is certainly a job where you never quite know what's going to happen next.
But it's a huge privilege to be able to fly with the doctors and paramedics who make such a difference to so many lives.
Rescue at Brimham Rocks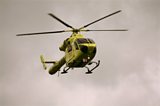 Brimham Rocks near Harrogate attracts thousands of tourists, amateur rock climbers and walkers each year.
Twenty-four-year-old Sam Slater was on a day out with his family when he fell and landed on his back.
The Yorkshire Air Ambulance was scrambled to rescue him but the remoteness of Brimham Rocks posed challenges for the team.
Watch a video feature on the BBC News website.
Credits
| Role | Contributor |
| --- | --- |
| Presenter | Rav Wilding |
| Executive Producer | Carla-Maria Lawson |
| Editor | Ian Cundall |