Main content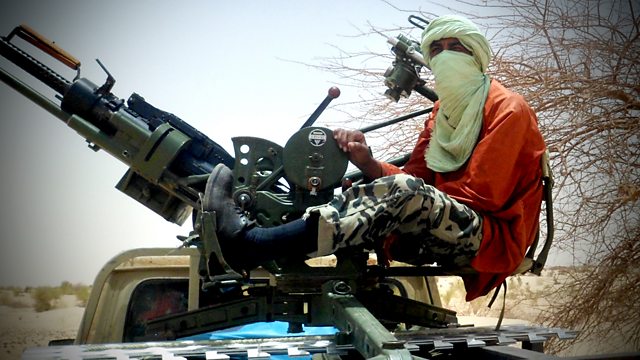 Lines in the Sand
Mark Doyle investigates the Islamist militant attacks emerging from the Sahara Desert and asks if they are connected.
Mark Doyle charts the challenge from Islamist militants in Europe's backyard, and asks if a series of separate conflicts are becoming part of a wider front.
In January this year armed extremists in Mali took over a large swathe of the country before being beaten back by French forces. The Islamists were killed and dispersed - but they were far from beaten. Across the edge of the Sahara, a large number of other violent, Islamist-related incidents followed or came into focus. One of the men who had led the occupation of northern Mali, Mochtar Bel Mochtar, audaciously attacked a BP oil installation in southern Algeria, across Mali's northern border. Islamists attacked a uranium mine and a military barracks in Mali's neighbour, Niger. Suicide bombers began operating in both countries for the first time. And most significantly, the conflict in Northern Nigeria intensified. The Boko Haram group, which has reported links to the Mali insurgents, occupied significant parts of the most populous country in the region. The lines in the Saharan sand are much broader than we thought - and they are shifting. The wider international community has now followed the French. A United Nations peacekeeping force is on the ground in Mali. European soldiers, including British, are retraining the Malian army. It has been decided that the fight against Saharan threat is worth blood and treasure.
BBC International Development Correspondent Mark Doyle is a veteran reporter of the continent. He gives listeners a visual picture of this new battleground, and investigates what the fighting is really about. Through on-the-ground reportage in Libya, Mali, Nigeria and Somalia, and interviews with African and European players, he asks if the tactics the domestic and international forces deploy will work.
Producer: Neal Razzell.
Last on
Broadcasts