Main content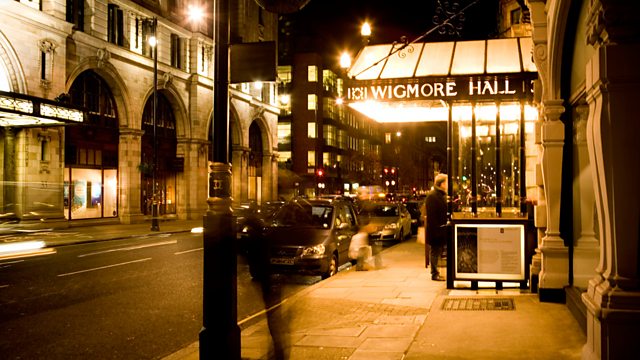 Elizabeth Watts, Clara Mouriz, Roderick Williams - Marx, Wolf
Live from the Wigmore Hall, London, a concert with songs from Joseph Marx and Hugo Wolf curated by pianist Simon Lepper. With Elizabeth Watts, Clara Mouriz and Roderick Williams.
An Italian Songbook: songs by Joseph Marx and Hugo Wolf from soprano Elizabeth Watts, mezzo Clara Mouriz and baritone Roderick Wiliams, curated by pianist Simon Lepper
Live from Wigmore Hall, London
Presented by Petroc Trelawny
Using songs by Joseph Marx and excerpts from Wolf's Italian Songbook, pianist Simon Lepper has woven together a narrative about the expectations and disappointments of love: how some people need to be in love, some need to be loved, and some simply can't confine their love to one person
Marx: Die Begegnung; Nimm dir ein schones Weib; Wofür; Am fenster; Abends; Ständchen
Wolf: Mein liebste ist so klein; Mein liebster hat zu Tische mich geladen; Ich esse nur mein Brod nicht trocken mehr; Gesegnet sei das Grün
Marx: Die Lilie
Wolf: Wohl kenn' ich euren Stand; O wär dein haus
Marx: Wie reizend bist du
Wolf: Wie lange schon war immer mein verlangen; Ihr seid die Allerschönste; Und willst du deinen Liebsten sterben; Du denkst mit einem Fädchen; Wenn du mich mit den Augen streifst und lachst
Marx: Der Dichter
Interval
Wolf: Ein Ständchen euch zu bringen; Was fur ein Lied soll dir gesungen werden; Heb auf dein blondes Haupt; Mein Liebster singt am haus
Marx: Venetianisches Wiegenlied
Wolf: Schweig einmal still; Was soll der Zorn
Marx: Liebe; Es zürnt das Meer
Wolf: Verschling der Abgrund; Nun lass uns Frieden schliessen; Nein, junger Herr; Hoffahrtig seid Ihr, schönes Kind; Du sagst mir, das ich kein Fürstin sei; Wer rief dich denn?; Ich hab' in Penna; Lass sie nur gehn; Wie viele Zeit verlor ich, dich zu lieben
Marx: Die Verlassene.
Music Played
Marx & Wolf - An Italian Songbook part 1

Interval music

Marx & Wolf - An Italian Songbook part 2

Post-concert music